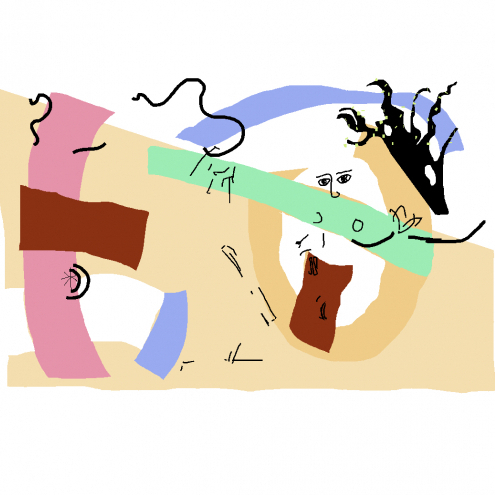 Harm van den Dorpel's (1981) Fernand (2022) shows reconstructions of the development of 25 drawings the artist sketched freehand on the touchpad of his laptop. The drawings are based on the recently discovered painting "Les fumées sur les toits" by Fernand Léger (1881-1955). Each digital drawing gradually merges into the next, creating unexpected generative combinations and compositions in an endless stream of images that overlap in time, in an ever changing order.


Van den Dorpel's new live generative work is now available as NFT via Upstream Gallery in an edition of 5 (+1 AP). The price per artwork is €7.500 (incl. VAT). Send us an e-mail for an update on available tokens.
Fernand Léger's fascination with contrasts in colour, line and form were always accompanied by a passion for contemporary life and modern technology, for everything current and dynamic. Artist Harm van den Dorpel shares these fascinations. Where Léger worked with the materials of his time, paint and canvas, the contemporary artist works with digital tools, code and the blockchain, creating generative digital artworks that give us a radically new perspective on what art is and can be. Léger was a pioneer in his time with a profound influence on contemporaries and later generations of artists. Van den Dorpel is among the avant garde of this digital age. For instance, In 2015, Harm van den Dorpel became the first artist in the world to sell his digital artwork for crypto as NFT to a museum (Museum for Applied Arts Vienna). 


Fernand is currently on display at the Kröller-Müller Museum, next to the digital artwork Frames (2022) by Jan Robert Leegte, during the exhibition "Fernand Léger en de daken van Parijs" at Analogous to Léger. Artists Jan Robert Leegte and Harm van den Dorpel were commisioned by The Triton Collection Foundation to reflect on the recently discovered Léger painting with a digital artwork.
send request for available tokens