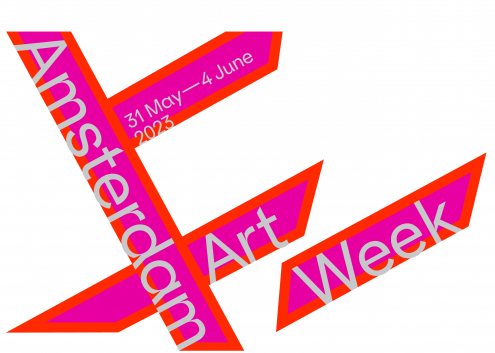 For this years' Amsterdam Art Week, Upstream Gallery proudly presents two solo exhibitions of Auriea Harvey and Jan Robert Leegte in the gallery, accompanied by a gallery special, which is an artist tour by the artists themselves. You can also find some of our other artists around the city too. Here's an overview of everything that's happening in relation to the artists we represent:

Upstream Gallery
Extended opening hours for AAW 2023
Friday 12-19, Saturday and Sunday 12-18
OVERVIEW
31 May – 4 June, 2023
AMSTERDAM ART WEEK 2023: SPECIAL EDITION RAFAËL ROZENDAAL, 81 HORIZONS
6 May - 17 June, 2023
UPSTREAM GALLERY: JAN ROBERT LEEGTE
No Content: Contemplations on Software
Read more here
2 - 17 June, 2023
UPSTREAM GALLERY: AURIEA HARVEY
The world we see with our eyes is just a reflection of a reality that we cannot quite grasp
Read more here
3rd of June, 2023
15.00
GALLERY SPECIAL: ARTIST TOUR WITH JAN ROBERT LEEGTE AND AURIEA HARVEY
Read more here
15.00
HARPERS BAZAAR TOUR: WOMEN IN ARTS HIGHLIGHTING JEN LIU'S THE BRETHREN OF THE STONE IN PILLOWS HOTEL

16.30–18.30
EYE FILMMUSEUM: NEW HARVEST I
SCREENING JEN LIU'S ELECTROPORE
20.30
GOODNIGHT AMSTERDAM ART, AT ISO AMSTERDAM

22.30
AFTERPARTY ISO WITH DJ-SET BY KÉVIN BRAY
READ MORE
AAW 2023 SPECIAL EDITION: RAFAËL ROZENDAAL
In celebration of Rozendaal's solo exhibition in Museum Folkwang, Essen, we're offering a special edition of 81 Horizons (2023) for a special price.
81 Horizons, 2023
Offset lithografie, signed and numbered
80 x 60 cm
Edition of 120 plus 5 artist's proofs
€ 150,- (incl. VAT, excl. frame)
Read more about 81 Horizons and the solo exhibition here
UPSTREAM GALLERY: JAN ROBERT LEEGTE
No Content: Contemplations on Software
Read more here


UPSTREAM FOCUS: AURIEA HARVEY
JUNE 2: Opening
16.00–19.00
Upstream Gallery is proud to present The world we see with our eyes is just a reflection of a reality that we cannot quite grasp, an exhibiton by Auriea Harvey (1971, USA) in the gallery's private viewing space, opening during Amsterdam Art Week.
Auriea Harvey is a sculptor living and working in Rome. Her practice encompasses virtual and tangible sculptures, drawings and simulations that blend digital and handmade production including 3d printing, AR and VR. She is primarily concerned with making the mythological world visible through form, interaction and immersion. Her works are a synthesis of art historical reference and imagination, and she is engaged across time, media, and material to define what sculptural production means in the present moment.
GALLERY SPECIAL: ARTIST TOUR WITH JAN ROBERT LEEGTE AND AURIEA HARVEY
SATURDAY JUNE 3
15.00

During Amsterdam Art Week there will be two solo exhibitions at Upstream Gallery, by Jan Robert Leegte (1973, NL) and Auriea Harvey (1971, USA). Both artists have been working with digital media since the 1990s and are pioneers in the field of Internet and game art. Since then, they have both developed a practice mixing both digital and tangible production. On Saturday, June 3 at 15.00, Jan Robert Leegte and Auriea Harvey will discuss their practice, their current exhibitions and digital art in general at Upstream Gallery.
JEN LIU'S ELECTROPORE SCREENING AT EYE FILMMUSEUM
SATURDAY JUNE 3
16.30–18.30
Jen Liu's Electropore is shown as part of the Eye compilation programme New Harvest I.
In Electropore (2021-22, video) electricity is generated by the labor of Asian and Black femmes, each trapped inside confined objects and shrunken worlds. They have no biography: they are pure productivity for the sake of cheap consumer goods, driven by an acid house beat. They're fed synthetic pink bubble jelly and junk food. They form a perfect synthetic loop of meaningless labor in a world given to calamity and isolation.
JEN LIU AND HARPERS BAZAAR: WOMEN IN ARTS
SATURDAY JUNE 3
15.00 Start tour (by bicycle)
16.30 tour in Pillows Hotel and cocktails at the rooftop bar inspired on Jen Liu's work
Harpers Bazaar is hosting a Women in Art event during the Amsterdam Art Week. They are hosting a tour by bicycle to visit female makers and gallerists. The tour will conclude at Pillows Hotel, where they'll show a couple of works from the collection, among which Jen Liu's work The Brethren of the Stone: In Vain the Net is Spread in Sight of the Bird (2006). After the tour, there will be cocktails, inspired on Jen Liu's work, and canapés at the rooftop bar till approx. 18.00.
GOODNIGHT AMSTERDAM ART WITH DJ SET BY KÉVIN BRAY
SATURDAY JUNE 3
21.30 Walk-in
22.30 Afterparty with DJ set by Kévin Bray
Initiated by Amsterdam Art Week, specially conceived by iso Amsterdam, the inspiring event GOODNIGHT proposes performances by Anto López Espinosa and Lucía Vives, studio-visits of a group of iso residents, and an exhibition by Jan Tomza. The dynamic programme will descend into the late night with an after party in classic iso fashion, with a special DJ set by artist Kévin Bray.
Tickets and more info here
Publication date: 24 May '23