Past exhibition
The world we see with our eyes is just a reflection of a reality that we cannot quite grasp
Auriea Harvey
Amsterdam, 2 Jun - 17 Jun '23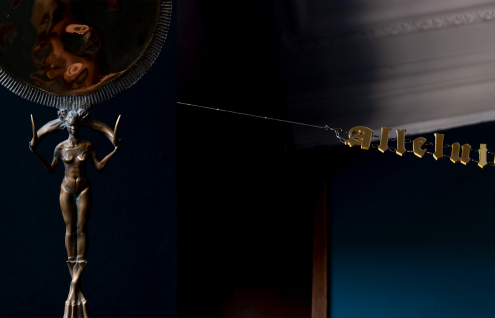 Past exhibition
The world we see with our eyes is just a reflection of a reality that we cannot quite grasp
Auriea Harvey
Amsterdam, 2 Jun - 17 Jun '23
opening: Friday June 2nd, 16.00 - 19.00
Upstream Gallery is proud to present the exhibition The world we see with our eyes is just a reflection of a reality that we cannot quite grasp by Auriea Harvey (1971, USA) in the gallery's private viewing space, opening during Amsterdam Art Week 2023.
Auriea Harvey is a digital artist and sculptor living and working from Rome. Through a diverse mixed-media practice, Harvey creates sculpture, simulations, drawings, and mixed reality works in dialogue with the ancient past, bringing light to dark ages. Forms are remade, recovered, and repossessed as Harvey weaves analog and digital elements together, unifying relics with emergent technology. Drawing from her extensive experience in net art and video games, she brings personal narratives and character development to her sculptures. This exhibition focuses on new sculptural works that each consist of multiple digital and physical layers which create an interplay of reflection, meaning and identity. Harvey's works are often diptychs, in the sense that every work consists of a physical and a digital counterpart, exploring the relation between digital processes and traditional sculpture methods.
The title of this exhibition refers to an ancient story about a man who was tasked to make a painting of a Buddha, when Buddha was still alive, in the sixth century BC. Being completely overwhelmed by Buddha's divine glow, the artist captured Buddha through its reflection, providing its observer with an intuitive understanding of reality. In line with Buddhist teachings, he realized that the world we see with our eyes is just a reflection of a reality that we cannot quite grasp. This story provides an insight into the power of art, suggesting that a reflection of truth can somehow also be seen as truth, and that artistic translations can give its viewers enlightened understandings of the world. Harvey was drawn to this specific quote because of its implication that divinity is best seen through its reflection. She thinks artists themselves are a mirror and therefore, every artists' work is a self-portrait.
This exhibition shows Harvey's first attempts to reflect on themes of divinity, referring to something that she can't directly view yet, and so must work her way through these iterations. She's engaged in an affair with the ancient world and influenced by her past as a video game designer, where she would create holistic experiences, alias "lore" in game culture. Even though Harvey is no longer active as a game-designer, she's still fascinated by the lore of our world: the artifacts of ancient material culture and their functions, something difficult to lay hold of.
These relics of the past are foundational to Harvey's work and the coinciding lore. Finally, Harvey wants for the work to speak for itself, like an artifact in a museums' glass cabinet display. Here, the observer gets to construct their own story.
Upstream Gallery invites you to come and have a peek into Auriea Harvey's story, works composited from digital sculptures and transformed into bronze, realized through 3D print and traditional lost–wax casting. All works are narrators of Harvey's exploration into the divine and the relationship between what one can touch and what one feels.
"Creation and destruction are divine. My sculptures are born broken. It is up to me to mend them." – Auriea Harvey
The work of Auriea Harvey can be found in the permanent collections of institutions such as the Whitney Museum, Walker Art Center, KADIST Collection, RF.C Collection, and Rhizome's Net Art Anthology. Her videogames and VR works have had international success, including exhibitions at the Tinguely Museum, Basel; the Whitney Museum, New York; the Victoria & Albert Museum, London; the New Museum, New York; Brooklyn Academy of Music, New York; and ZKM, Karlsruhe.
She is the recipient of a Creative Capital grant and a winner of the Independent Games Festival Nuovo Award. Auriea is Professor of Games at Kunsthochschule Kassel.
Image: Auriea Harvey, Mirror v1-dv1, 2023, Digital sculpture in coded environment, NFT