Upstream's Daily Net Art Update (#22)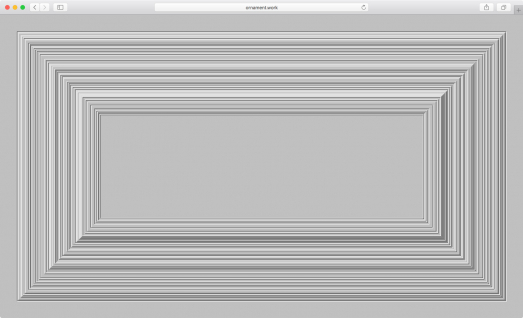 Upstream's Daily Net Art Update (#22)
Upstream's Daily Net Art Update (#22), for the heroes stuck at home to flatten the curve.

When you have to stay at home there's always Net Art. Art made for the internet, meant to be experienced at home, behind your own computer.
Today: Jan Robert Leegte, Ornament.work, 2018. Find it at http://www.ornament.work/. Collection of Dutch Ministry of Foreign Affairs.

By the continual and random alternation of black and white lines, the website Ornament displays an ever changing illusion of three-dimensionality, of light and shadow, and of sculptural materiality. A long running theme within Leegtes body of work is based on the relationship between the trompe l'oeil effect of interface designs and the (architectural) ornament. In 2006, Leegte wrote the artist statement 'The Silent Ornamental Revolution', set out to explore the frontiers of sculptural experience and to reinstate the ornament as romantic protagonist. Over the years, Leegte developed a network of expressions within the theme that made use of the ornament code, often applied in site-specific projections including one at Upstream Gallery in 2016. With the ornament now operating as website and outside the spatial context, it has been given the autonomy and the elements of the 'sublime' that Leegte envisioned in his manifesto.
Publication date: 8 Apr '20