Upstream's Daily Net Art Update (#12)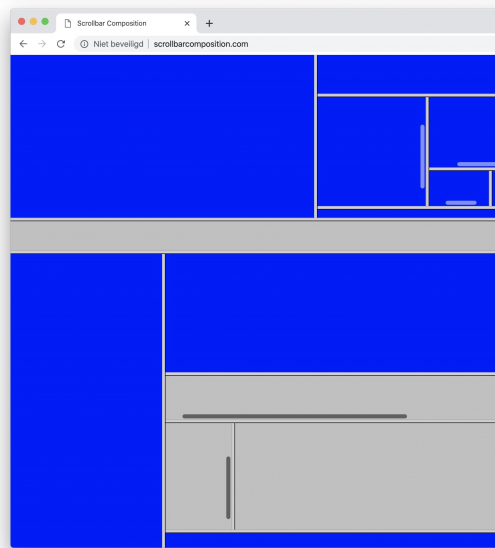 Upstream's Daily Net Art Update (#12)
Upstream's Daily Net Art Update (#12), for the heroes stuck at home to flatten the curve.
When you have to stay at home there's always Net Art. Art made for the internet, meant to be experienced at home, behind your own computer
Today: Jan Robert Leegte, Scrollbar Composition, 2000 . Find it at www.scrollbarcomposition.com. Collection of Stedelijk Museum Amsterdam.
Scrollbar Composition is a web-based artwork by Jan Robert Leegte. The web page is divided into planes by scrollbars, creating an abstract composition. The scrollbars move independently of a user and jump randomly in all directions.
The appearance of the artwork is dependent on the operating system and browser that is being used, and adapts to updates. The result is that Leegte's scrollbars are in constant change which, in fact, makes the work performative. With this, Scrollbar Composition reflects on a key element of digital and net-based art: the volatility of digital materials due to the ever continuous updating of software and digital obsolescence. In the work, Leegte uses this to his advantage: the changing interfaces are an essential element of the piece.
Leegte uses typical elements of the digital interfaces of computer programs in his work, like scrollbars and mouse pointers, and places them in a new context. Scrollbar Composition has also been executed (translated) in different physical sculptures and installations, giving the virtual elements their own sculptural legitimacy.
Publication date: 29 Mar '20