Upstream's Daily Net Art Update (#10)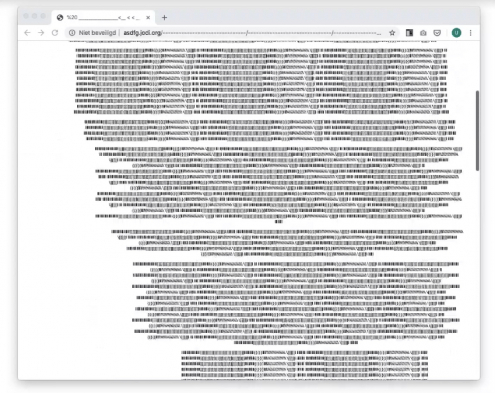 Upstream's Daily Net Art Update (#10)
Upstream's Daily Net Art Update (#10), for the heroes stuck at home to flatten the curve.

When you have to stay at home there's always Net Art. Art made for the internet, meant to be experienced at home, behind your own computer.
Today: JODI, ASDFG, 1998. Find it at asdfg.jodi.org. JODI pioneered web-based art in the 90s, ASDFG is one of JODI's earlier net art works. Upstream Gallery will show a survey of JODI's practice at Art Basel (17-20 September).

ASDFG (asdfg.jodi.org) is an early web-based work by JODI. It uses HTML - the simplest and most common computer language found on the web - which creates a glitchy animation of flickering black and white pages filled with code. The web browser will continuously be redirected from web page to web page with strange-looking URLs.
When consulting the browser history, all the sites that were visited appear in the list and produce a pattern of the series of URLs. Like this, JODI infiltrates in your browser and animates its history page.

Sales inquiry: info@upstreamgallery.nl
Publication date: 27 Mar '20