'State of the Art' with Dennis Rudolph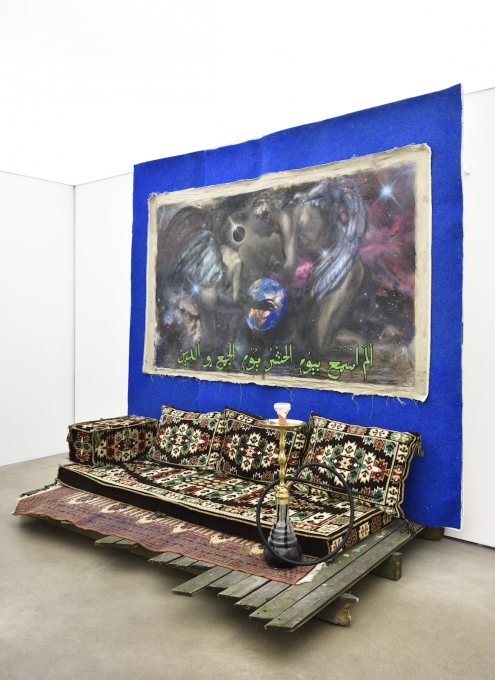 'State of the Art' with Dennis Rudolph
Group show with Jordan Blady (USA), Niklas Binzberger (DE), Rachell Clark (AUS), Marco Franco Di Domenico (USA), Valentin Dommanget (FRA), Claude Eigan (FRA), Martha Glenn (USA), Max Grau (DE), Angelina Jesson & Jaron Hill (GB), Stephen Hiam (GB), Lucie McLaughlin (IRE), Justin Ryan Polisky (USA), Maya Rochat (CHE), Tracy-Jeanne Rosenthal (USA), Chloe Royer (FRA), Eleanor Strong (GB), Dennis Rudolph (DE), Andrew Wyatt (GB) at Gallery Lily Robert in Paris that runs until 29 April 2017.
The catch-all name of State of the Art is misleading. It appears to simply describe a factual situation, a state of affairs, the affairs of art more specifically. But let's not be deceived. Falsely banal, it is actually the name of a multilateral entity that continuously undergoes change. State of the Art first was the name of the artist-run space initiated by Dennis Rudolph in Berlin in 2014, with constantly evolving residents, including Valentin Dommanget and Maya Rochat represented by Lily Robert. What is the state of art in this space in Berlin's Schöneberg district? Its state certainly never solidifies but remains in constant movement, in a liquid or even gaseous state. "Today, artistic endeavours have taken on more neoliberal, project-like forms," they explain. According to these artists, the classic format of exhibitions insufficiently reflects a world that is in a constant state of flux and convulses with frenzied hyperpresence. In this world, the artists themselves must be ceaselessly in motion, circulating from one biennale to another, from residency to residency, connecting the dots of the vast global artistic network that stretches from Berlin to Mexico, Paris to Los Angeles, which places the classic studio practices of the previous century alongside remnants from the past.
Therefore, as an art project space, State of the Art invites artists, thinkers, poets and philosophers to present projects and engage in joint efforts, whether these result in material creations, take place on screen or feature intermittent dialogues that lead to collaborations. Each project is sustained over time and punctuated with events, which has contributed to turning the venue into a place of creative synergy. However, more recently State of the Art has also become an artists collective or rather a "collective artist" as per the distinction established by the likewise manifold French artist entity known as Claire Fontaine. State of the Art no longer designates a venue with an exhibitions program, nor an entity that can be extended off-site. On the contrary, the artists have taken on a single name to gain the upper hand from curators. Together they create artworks which cannot be simply delineated, because they operate through multiple invitations for temporary contributions. Thus, State of the Art bursts the banks of the spatial-material state to which art often gets reduced. Without a sole author, the nature of the work's creative process tends towards time-based art. But even the unity of place slips out of reach, because State of the Art functions within the dimensions of worldwide digital reality thanks to artists who participate over Skype and to viewers who join by live stream.
State of the Art will come celebrate its 1000 years of existence at Lily Robert in Paris. On March 16, 2017, the gallery will host a grand celebratory banquet in its former wine cellar that is digitally accessible to everyone around the world and to a limited number of guests in the flesh. About 15 artists who have taken part in the activities of the art space in Berlin will come present their work, while Dennis Rudolph moderates the evening. The program includes Skype discussions about gentrification with the art scene in Los Angeles, performances from London, a lecture from the world's worst place — Flint, Michigan, art videos, chaos, dancing, music and Schnaps distilled by their sponsor Leydicke. Should these means not be sufficiently disconcerting to fully disrupt conventional categories and definitions of art, artists and exhibitions, please note that all components will also be shared live on Facebook. The state of the art will be televised or it will not be.
For more information, visit the exhibition website.
Publication date: 7 Apr '17