Video work by David Haines shown at Rooftop Films (NYC)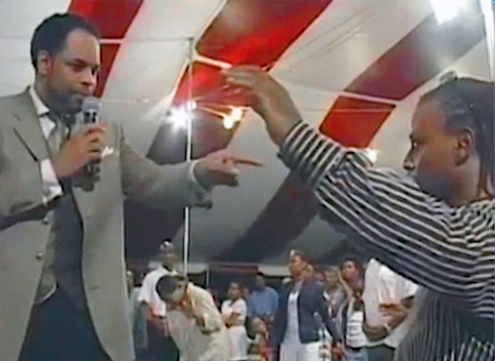 Video work by David Haines shown at Rooftop Films (NYC)
Rooftop Films has been showing films outdoors in New York City since 1997. This years edition will include the single channel video work Dereviled (2013) by David Haines.
Dereviled shows mobile phone footage of gay and lesbian 'exorcisms' in evangelical churches in the U.S. is reversed and the subsequent phonetic reversal used as the basis for a song text. Phonetic reversal has long been the subject of debate, particularly within the Christian church where subliminal messaging is germane to Satanism. Here the situation is politicized by disarming the ritual, using the reversed text as lyrics for a club anthem. New subliminal messages are inserted which, through their context, take on a political resonance. Mnemonic signs resonate with a pulsing beat, bringing the high camp sound of 1970s disco back to its political roots of queer politics and the Theatre of the Ridiculous.
On July 21st, the video will be shown on the roof of Trilok Fushion Center for the Arts Clinton Hill in Brooklyn. For more information, visit the Rooftop Films website.
Images: David Haines, Dereviled, 2013 (screenshots)
Publication date: 16 Jul '16