Alicia Framis Secret Strike exhibited as part of the 30th anniversary exhibition of CGAC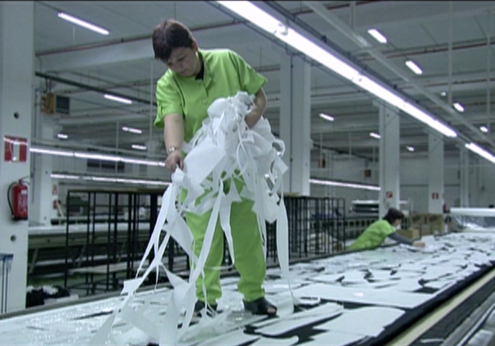 Alicia Framis Secret Strike exhibited as part of the 30th anniversary exhibition of CGAC
An anniversary is more than a celebration. To remember history is also to take stock, to review and reread the past in order to gain momentum for the future. Team work, the title to CGAC's 30th anniversary exhibition, emphasises the collective effort of those who, since 1993, have contributed to building and consolidating an essential project for culture and art in Galicia. Alicia Framis will be showcasing her work titled Secret Strike from 2006, that's part of CGAC's collection.
Secret Strike is a moving image piece that encapsulates an existential performance of two thousand people frozen in time at INDITEX ZARA. The movie was filmed at the headquarters of the INDITEX clothing conglomerate, which owns fashion retailers such as Zara, Massimo Dutti, Bershka and Pull & Bear. We get to see a clear-cut model of a production system, a company where creative and intellectual work prevails, where ideas and personal networks are one of its main values.
In Secret Strike the camera moves around the immobile figures and slowly approaches them in open-ended sequences of shots, which favour the transition from one space to another. Moves are slow and silent, as if the normality of the scene could be altered. Even when the human activities have been paralysed, time has not stopped. Framis deliberately intensifies this in the film footage: a flickering light, a telephone ringing, an automatic door opening, the steam from a machine and so on.
The exhibition Team work: A Possible History of the CGAC runs from 11 July, 2023 – 7 January, 2024
Ground floor, Basement, Project Space
Galician Centre of Contemporary Art (CGAC)
Santiago de Compostela, Spain
Publication date: 21 Sep '23