... And that's only (half) the story | Group show with Harm van den Dorpel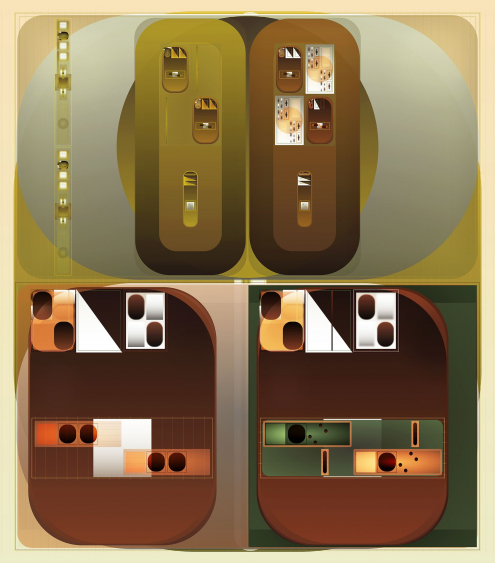 ... And that's only (half) the story | Group show with Harm van den Dorpel
…And that's only (half) the story is an upcoming group exhibition in PLUS-ONE Gallery, Antwerp, Belgium. This show revolves around technologic innovations, both ones that are evidently present, like AI, Chat GPT and the impact of deepfakes, as the less visible examples, and their influence on our daily life.
With these underlying concepts in mind, it might not be surprising that Harm van den Dorpel is one of the artists participating. He'll be bringing two Mutations, that share the name Coralena from his Mutant Garden series (2019–ongoing).
The Mutant Garden series utilize an algorithm called 'Cartesian genetic programming', invented around twenty years ago by Julian F. Miller and Peter Thomson. As with genetic encoding in nature, the algorithm is versatile and can generate completely different systems next to what it was intended to do. Van den Dorpel encountered he could mutate, and assist its evolutionary development to breed a large variety of mutants, and thus artworks. It highlights the evolutionary progress in this recent history of computation.
Like van den Dorpel, the other participating artists, Jonas Lund, Daan Couzijn, Libby Heaney, Sarah Meyohas, Victor Verhelst, Arvida Byström, Gretta Louw and Frederik De Wilde, will also bring in a variety of tech-based tools to explore and back their own intriguing narratives and stories.
PLUS-ONE Gallery has two public spaces located in the Antwerp Art & Museum district. …And that's only (half) the story will be on show in the New South/Nieuw Zuid location, from September 9 until October 8, 2023.
To read more about the exhibition and the gallery, click here

Image: Coralena (Mutation 105) (2022)
Exposure on light sensitive metallic paper, mounted and framed
110 × 125cm / 43.3 × 49.2″
... And that's only (half) the story
02.09.2023 – 08.10.2023
Open tue–sunday, from 13.00 till 18.00 hours
PLUS-ONE Gallery (New South)
Léon Stynenstraat 21
2000, Antwerp
Publication date: 24 Aug '23