Big wallpainting by Constant Dullaart at LINZ FMR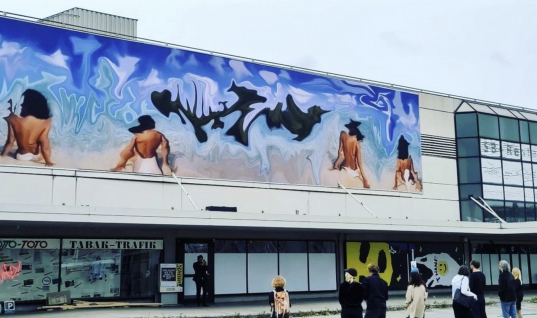 Big wallpainting by Constant Dullaart at LINZ FMR
From 6-11 June, Constant Dullaart is part of this year's edition of LINZ FMR (festival for art in digital contexts and public spaces) in Linz, Austria (southern harbor area).
On display is one of the artist's versions of Jennifer in Paradise. Dullaart redistributes the image of a woman reclining on a beach in Bora Bora, originally taken in 1988 by John Knoll, the co-creator of Photoshop. This image subsequently became used as the programme's demonstration image and was therefore once the world's first and most Photoshopped photograph, as new users became acquainted with the product. The high-resolution version of the image is no longer available online, and so the artist has restored the image file pixel by pixel, before applying Photoshop's generic filters to create a range of distortions.
LINZ FMR is a biennial festival and format for artistic processes and positions, that reflects the ephemeral nature of our digital and connected present. The ever-advancing digitalization of everyday life implies an intense overlapping and layering of familiar physical, but also finely interwoven digital spaces. LINZ FMR focuses on the shifts, distortions and rifts that arise in this process and presents current artistic positions in this context.
The festival, whose title alludes to ephemerality and short-livedness, presents works whose initial ideas can be found in virtual and/or digital space or have a strong reference to it, but are shown (sometimes in a transformed way) in the physical surroundings of the city of Linz. The focus is primarily on the interstices that arise during these transformations into public space – outside of museums, galleries or art spaces.
More information here.
Publication date: 9 Jun '23