Alicia Framis in conversation with Neo Muyanga in Depot Boijmans van Beuningen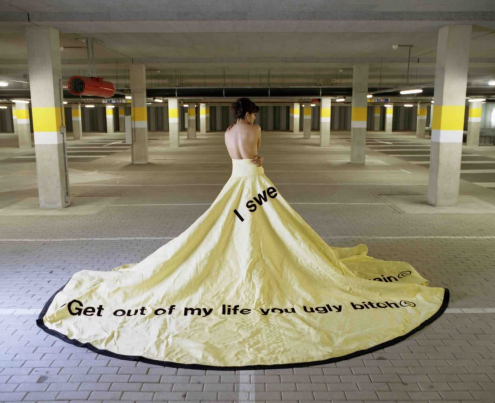 Alicia Framis in conversation with Neo Muyanga in Depot Boijmans van Beuningen
On the occasion of Neo Muyanga's closing performances "Spells against othering" at Depot Boijmans van Beuningen on the 3rd and 4th of June, Alicia Framis' dresses from her anti_dog series (2002) will be worn and presented. In between performances, Framis and Muyanga will join each other in a conversation.
During his exploration of Museum Boijmans Van Beuningen's collection, Muyanga came across the art series anti_dog by Alicia Framis. This 'fashion line' consists of nine golden dresses made of twaron, a fabric that is dog-, bullet-, cut- and fire-resistant. The idea for anti_dog came about when Framis heard of dogs and other aggressors attacking women of color, when she was living in Berlin. Behind this violent action were racist motives. Muyanga was immediately attracted to Framis' work. He recognised the stories from his own homeland.
In Birmingham, Alicia Framis brought together students from the fashion academy and women who have difficult lives. She asked the students to interview them and ask what sentences they no longer wanted to hear. These copyrighted sentences were applied to dresses, each with skirts around five meters in diameter. We used these immense skirts to stage a demonstration against verbal aggression towards people. The dresses occupied Victoria Square in Birmingham. The models were the same women who provided the sentences, making them wehere the dresses proudly. The dresses where also presented as representation of The Netherlands at the Venice Biennale 2003.
Publication date: 31 May '23