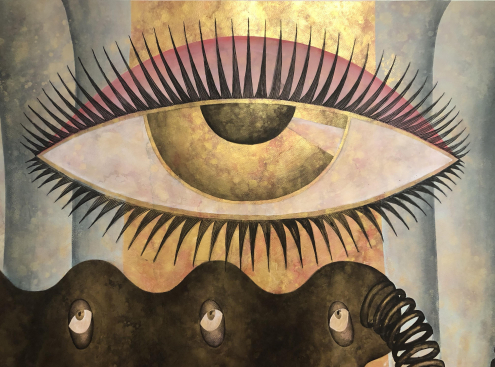 During Amsterdam Art Week 2022, Upstream Gallery proudly presents the opening of two solo exhibitions.
ELECTROPORE - JEN LIU
The works in ELECTROPORE - Jen Liu's fourth solo exhibition with the gallery - originate in electroporation, a method of genetic engineering that the artist used to produce altered beef cells. During electroporation, living cells are put inside a vial of pink liquid that new, synthetic DNA is floating in, and the vial is put into an electroporation machine that delivers an electric shock to the vial. The electric shock causes temporary holes to open up in the walls of the cell – allowing the new DNA – new ideas! – to enter. Within the context of ELECTROPORE, the synthetic DNA describes multiple methods of nonviolent protest.
Read more here
12 May - 02 July 2022
UPSTREAM FOCUS: JUAN PARADA
Upstream Gallery will show a selection of Parada's "Geometric Reliefs," which present a particular interest of the artist for graphic-sculptural issues explored in reliefs on the two-dimensional plane of the wall. According to Parada, they are progression and flow experiences of geometric and organic forms, arising from structural solutions and natural phenomena. In his production, references to generative forms are also added, both in micro and macro scale, in volumes that act in a mathematical logic, in which patterns emerge from modified algorithms.
Read more here
12 MAY - 04 JUNE 2022

Opening hours during Amsterdam Art Week
Opening night | Thursday 12 May, 17.00 - 21.00 hrs
Friday 13 and Saturday 14 May: 12.00 - 18.00 hrs
Sunday 15 May 12.00 - 17.00 hrs

Besides the opening of the aforementioned exhibitions, two of our other artists are represented during Amsterdam Artweek 2022.
DO YOU BELIEVE IN LIFE AFTER LOVE BY MARIJKE DE ROOVER INCLUDED IN SCREENING AT EYE FILM MUSEUM
Amsterdam Art and Eye Filmmuseum have put together a program with the best film- and video works from the past two years: New Harvest. The program is curated by Marian Cousijn from Eye, Artist Kévin Osepa and Amsterdam Art director Nina Folkersma. Within the selection of works is Do You Believe in Life After Love by Marijke De Roover.
Screening
Sunday 15 mei 2022
13:30—15:00
Read more here
DAVID HAINES INCLUDED IN IT'S YOUR BIRTHDAY AT CAPITAL C
The painted work 'Greyed Out (Date)' (2020) by David Haines will be on display as part of It's Your Birthday at Capital C during this edition of Amsterdam Art Week.
The artwork is part of the 'Greyed Out' series made during the recent lock down. In this 'new normal' shiny balloons hang in the darkness of a cancelled celebration. Others spell out the year, or signify a birthday - caught in the dulled flash of a camera and lit for a split second they are fated to be be plunged immediately back into darkness.
Publication date: 13 May '22