Current exhibition
ELECTROPORE
Jen Liu
Amsterdam, 12 May - 2 Jul '22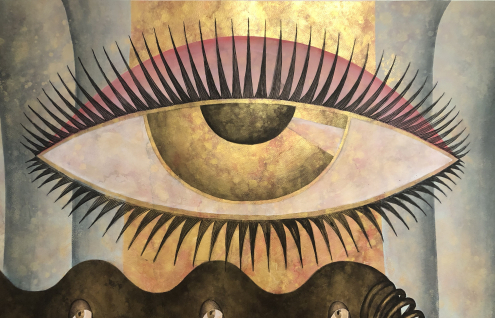 Current exhibition
ELECTROPORE
Jen Liu
Amsterdam, 12 May - 2 Jul '22
Upstream Gallery proudly presents Jen Liu's solo exhibition ELECTROPORE.
The exhibition begins with the idea of electroporation - a method of genetic engineering that Liu has used to add secret messages to living beef cells in her long term body of work, Pink Slime Caesar Shift. The cells, suspended in pink fluid, are electroshocked: if they survive, temporary holes in their bodies open up, allowing new DNA to enter. This DNA is designed by Liu, containing encrypted messages about methods of political protest, proofs of concept for the possibility of alternative networks of communication for labor activists working under oppressive government regimes.
However, if electricity is a way to insert new meanings, it could also be considered a means of forgetting old meanings - losing one's memory. In Electropore (2021-22, video) electricity is generated by the labor of Asian and Black femmes, each trapped inside confined objects and shrunken worlds. They have no biography: they are pure productivity for the sake of cheap consumer goods, driven by an acid house beat. They're fed synthetic pink bubble jelly and junk food. They form a perfect synthetic loop of meaningless labor in a world given to calamity and isolation. Various texts - including but not limited to Fred Ho's Warrior Sisters (2000) and firsthand accounts of electroshock therapy and political imprisonment - are edited together to speak to productivity in the ruins: the reality of today's migrant labor, industrial and data labor outsourced to the global south in the 21st century.
Paintings on paper share the theme of being trapped inside closed structures. Here, the closed structures are the paintings themselves, bodies and objects emerging from cartoon holes embedded in surfaces of shimmering gold and pink. This imagery also shows up in a series of smaller paintings, graphic design for severed fingers, lighthearted cartoons for a terrible reality.
Also available during the exhibition is A Better Life for the Workers (Volume 1) (2021), an art book that contains a field manual for Chinese labor activists first published in 2013, with its original Chinese text as well as a new English translation by the artist. The Hong Kong-based NGO that originally published this guide, Worker Empowerment, was dissolved in late 2021, amidst increasing trouble by the Chinese government. All profits go to the former members of this organization, and their efforts to politically organize in new forms. This book is also a flip book, in which a 3D hand is dissolved by the same pink spheres of Electropore - they leave no trace in their wake.
While this body of work reflects on the increasingly challenged political context of a long term body of work - Pink Slime Caesar Shift - it is also a reflection on a collective state of being in the last couple years. Who are we anymore? Is it possible to remember, as our electrified images flit over multiple screens, disattached from real bodies? We are forced into hiding. Grand hopes turn into a woman sitting by the window in a tiny apartment, smoking a cigarette, struggling to remember who she used to be, wondering what comes next.
Jen Liu is based in New York, working in painting, video, choreographic performance, and genetically engineered biomaterial. She explores topics of national identity, gendered economies, neoliberal industrial labor, and the re-motivating of archival artifacts. She is a 2022 recipient of the Backslash Art Award, 2019 Creative Capital Award, 2018 LACMA Art + Technology Lab grant, and 2017 Guggenheim Fellowship in Film/Video, among others. She has presented work at The Whitney Museum, MoMA, and The New Museum, New York; Royal Academy and ICA in London; Kunsthaus Zurich; Kunsthalle Wien; the Aspen Museum of Art; Henry Art Gallery, Seattle; MUSAC, Leon; as well as the 2014 Shanghai Biennale and 2019 Singapore Biennial. She has received multiple grants and residencies, including Akademie Schloss Solitude, Stuttgart, Germany; Sommerakademie, Bern, Switzerland; de ateliers, Amsterdam, NL; and the Pollock-Krasner Foundation, New York, among others.
Nothing of that time remains but an occasional shifting shadow, a half-heard sound, an indefinable feeling.

I am in a strange state. Early last week I suddenly came to -- and wondered where I was and how I got there. I learned that electroshock treatments caused me to lose my memory. I feel empty, created full grown without any past history.

I can remember a few things. I know my phone number and who my relatives are. But the letters from you that I found were completely new to me. I read them without any recollection of having read them before, or who you were.

It was all very peculiar. I was puzzled – but only vaguely, I really felt too vague to care. Nothing really bothered me. There weren't just gaps in my memory. There were oceans and oceans of blankness. Very well then.
Adapted from "As Empty As Eve", Natalie Parker's account of electroshock therapy, The New Yorker, Sept 9, 1974, part of script for Electropore, 2021-22