Past exhibition
Mirror Mirror
Group show
Amsterdam , 14 Jan - 25 Feb '23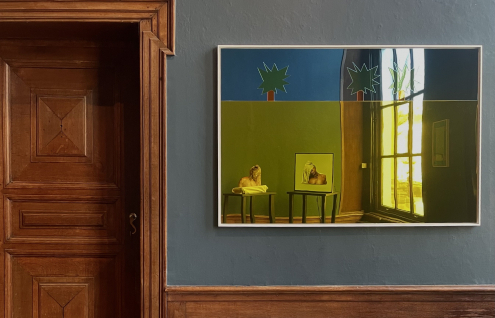 Past exhibition
Mirror Mirror
Group show
Amsterdam , 14 Jan - 25 Feb '23
Mirror, Mirror
Alicia Framis, Auriea Harvey, Rafaël Rozendaal
14 - 28 January 2023
Upstream Gallery proudly presents the group presentation Mirror, Mirror. The exhibition in Upstream's private viewing space, shows works that use mirrors, either as their subject, as their medium, or both. They not only reflect a story, but also make the spectator reflect on themselves in relation to the presented artwork. The spectator becomes a participant within the themes that are depicted.
Rafaël Rozendaal
In this last decade, Rafaël Rozendaal (NL, 1980) has made a name with his artworks in the shape of websites, and the way he translates his online work to physical media, like prints, tapestries and installations. With this new line of plexiglass works, Extra Nervous, Rozendaal continues his investigation in the transition from movement into abstraction and from virtual into physical space.
In what can be considered the shortest path from digital to physical, the compositions Rozendaal created are coded to be laser-cut by a computer out of mirrored colored plexiglass. They translate an exact, digital line into the physical world, like a mechanical way of drawing. The mirroring colors refer to the experience of color in the digital world: smooth, without texture, seen through the glass of a screen. The reflecting aspect of the artworks adds an extra layer of elusiveness to the tangible translation of the digital.
Through the use of mirrors, there's also a sense of movement in the works. They deal with interactivity in the most basic form: the image changes along with the point of view of the observer. Reacting to all kinds of light, the artworks will always live a life outside the control of the artist's human hand.
Alicia Framis
Alicia Framis' (SP, 1967) practice builds on the artist's everlasting fascination with human existence within contemporary urban society, in which overstimulation and inequality are, unfortunately, omnipresent. Through this, Framis' work often places people in front of a moral mirror.
As gender archeology is slowly unmasking the social construction of gender identities of the past, it is becoming clear that women were not just passive participants. Yet women still face and have to deal with this misunderstanding in current society. By placing the typical representation of femininity and fertility, a venus, on a pedestal with her power stunted by a reflecting glass ceiling above her, the artist creates a symbol of women throughout the history of humanity. With the use of humor, Alicia Framis denounces the situation in which women are and have been, and strives for a more equal world for everyone.
By placing the sculpture on a mirrored pedestal, the spectator inevitably has to relate to the artwork, and do some self-reflecting.
Auriea Harvey
After pioneering net art and video games in the 1990s, Auriea Harvey (USA, 1971) has now turned her attention to digital sculpture, 3D printing, and mixed reality. Her practice encompasses virtual and tangible sculptures, drawings and simulations that blend digital and handmade production. She is primarily concerned with making the mythological world visible through form, interaction and immersion. Her works are a synthesis of art historical reference and imagination. And she is engaged across time, media, and material to define what sculptural production means in the present moment.
Pelops I (2022) is a sculpture that has both a physical and a digital manifestation that complement each other. Both manifestations reflect on each other's possibilities and limitations, just like a mirror. Harvey's sculptural process begins with making scans of elements from real life; for example, the artwork Pelops I had a scan of Harvey herself as its starting point. These scans mutate as they are combined with others from her extensive library: 3D models based on her own clay sculptures, works of imagination digitally sculpted, and artworks encountered in museums. Harvey sifts through artifacts of Western culture in order to find herself and traces of her African American diasporic lineage. These objects are hybrid products, made in Western Europe but borrowing from its colonies. The sculptures show Harvey's influences, whilst being fused with her own creation to reinvent, reinterpret and retell narratives.