Past exhibition
Upstream Focus | Digital Dust
Noor Nuyten
Amsterdam, 24 Sep - 15 Oct '22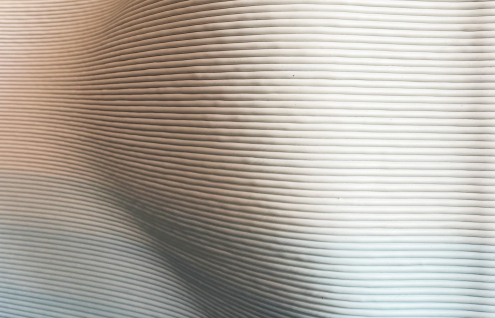 Past exhibition
Upstream Focus | Digital Dust
Noor Nuyten
Amsterdam, 24 Sep - 15 Oct '22
Upstream Gallery proudly presents the new Upstream Focus exhibition Digital Dust showing new work by Noor Nuyten.
By the use of screens, place perception is shifting tremendously. Nowadays these digital surfaces even become (virtual) landscapes carried in the hand, created by our own fingerprints.
The off-white reliefs hanging on the wall are taking the viewer behind the capacitive touchscreen, recreating the patterns of the electrodes. While swiping on a smartphone, a cascade of actions take place: the touch leaves a pattern of electrodes behind it. The artist has looked into how best to capture this movement and found a way to materialize it in the series Digital Dust.
After thorough research together with circular company Van Plestik, Nuyten developed a way to 3D print her concept with used electronics, such as computer monitors. These electronics, alluding to the evolution of technology, are shredded, melted and 3D printed. In imagining a transition towards more liveable futures, inspired by thinkers like Donna Haraway, Nuyten believes in the power of rethinking materials. By blending used materials, mundane objects and gestures, her aim is to spark the imagination of the viewer.
As a follow up of Digital Dust Nuyten dove even further into the world of swiping, 3D printing and wastage. For this new body of work Nuyten archived the traces one leaves behind while swiping on a screen of an Ipad in landscape mode.
Together with circular company van Plestik, Nuyten not only used e-waste, but also shredded melted and 3d-printed production waste of Dutch designers, like Joris Laarman. Concerned with the art- and design industry's wastage, the work can be seen as a proposal for a circular economy in which colleagues manifest their concepts with (rejected) production. Flirting with the characteristics of Dutch Design - humoristic, simple, reuse - conceptually there is a Laarman chair hanging on the wall.