Past exhibition
From ZERO to 2018
Various Artists
Amsterdam, 14 Apr - 19 May '18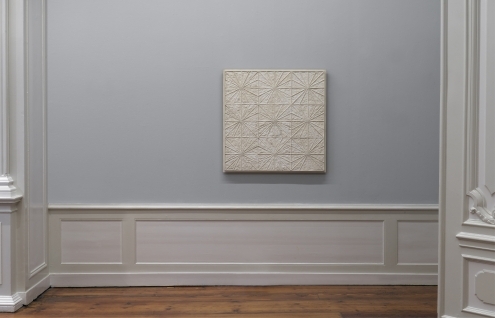 Past exhibition
From ZERO to 2018
Various Artists
Amsterdam, 14 Apr - 19 May '18
Upstream Gallery proudly presents From ZERO to 2018, a group exhibition with work by Ad Dekkers, Constant Dullaart, herman de vries, Jan Robert Leegte, Jan Schoonhoven, Marc Bijl, and Rafaël Rozendaal. The exhibition brings together an extraordinary selection of works by some of the most important Dutch artists of the late 20th century, who stood at the forefront of the international ZERO movement and of geometric abstraction in the 1960s. They are combined with works by four contemporary artists, that not only show stylistic similarities to the distinctively white works from half a century earlier, but also a shared appetite for radical new ways to make art.
ZERO, coined by Heinz Mack and Otto Piene in the late 1950s, marked the start of an international art movement that set out to break free from the previous decade subjugated by war and instead to develop a new, optimistic future for art. The Nul-group, the Dutch equivalent of ZERO, was established not long after by Armando, Jan Hendrikse, Henk Peeters, Jan Schoonhoven and herman de vries. While abstract expressionism was still leading, the artists connected with the ZERO movement sought ways to reduce both their artistic forms and subjective expression, to explore the most essential and objective forms, and to concentrate and repeat. The movement is furthermore characterised by experiments with the most innovative and unconventional materials and media. Although this resulted in a wide range of new art, the movement has become most iconic for the myriad of white monochromatic works.

Constant Dullaart, Jan Robert Leegte, Marc Bijl, and Rafaël Rozendaal have each made essential contributions to the current developments in contemporary art, with a particular focus on the developments in the field of digital art. Their works manifest both online and off, as they continue to investigate the urgency of producing physical objects. The subsequent works are often characterized by a hybrid nature, showing close resemblance to their digital work, or making use of materials that are connected to the digital realm. Each time, they show a reinvention of their artistic practice and continue to push contemporary art to the next level.
Image: Jan Schoonhoven, R72-5, 1972, 18 x 18 cm, unique piece. Photos Gert-Jan van Rooij.