Upcoming art fair
Amsterdam Art Week 2021
Amsterdam, 17 Jun - 27 Jun '21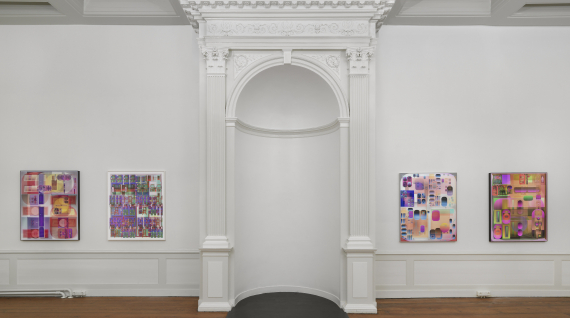 Upcoming art fair
Amsterdam Art Week 2021
Amsterdam, 17 Jun - 27 Jun '21
Amsterdam Art Week 2021
During Amsterdam Art Week 2021 (17 - 27 June) Upstream Gallery presents in its main gallery space the final week of Harm van den Dorpel's solo Mutant Garden. During the art week we have extended opening hours. From Thursday 17 June - Sunday 27 June we are open daily from 12.00 - 19.00.
special nft edition harm van den dorpel
During Amsterdam Art Week 2021, Upstream Gallery will proudly present a special series of "non-fungible tokens" (NFTs) by pioneer Harm van den Dorpel.
Van den Dorpel's Mutant Garden Seeder consists of a series of 512 unique ethereum tokens (NFTs). When a Mutant is purchased and a token is minted, the current state (transaction hash) of the Ethereum blockchain is used as a seed to generate the initial genetic configuration of the artwork. Also after birth, every so many mined blocks, there is a small chance the artwork mutates.
Each mutant is mathematically determined by the history of blockchain transactions, but the screen size, and amount of mutations will make the artwork render in varying compositions. Each mutant could therefore be called a "responsive painting". In this provocation of immutability, Harm uses the (by some people considered) flaws of NFTs to his own playful advantage.
crypto lounge & cocktail bar with harm van den dorpel
Saturday 19 and Sunday 20 June 2021, 15.00 – 18.00
During the weekend of June 19 and 20, Harm will host a Crypto Lounge in Upstream's private viewing space. Come to the gallery with your laptop and Harm will answer your questions about collecting NFTs, to help set up a crypto wallet and to assist in buying your first NFT, all while enjoying a freshly shaken cocktail.
In 2015, Harm van den Dorpel was the first artist in the world to sell NFTs to a museum, paid for with a cryptocurrency. After this, he co-founded left.gallery: a curated marketplace for blockchain ascribed artworks, where he sells "downloadable objects".
Harm van den Dorpel currently has his second solo show at Upstream Gallery.
performance marijke de roover - live, laugh, limerence
Saturday 26 June, 15.00
rsvp - info@upstreamgallery.nl
In Marijke De Roover's new operatic performance Live, Laugh, Limerence the artist questiones the impact of how we choreograph and culturally organise the performance of love through heteronormative structures whilst luxuriating in every cliché of rom coms, musical theater, opera, karaoke and Disney.
Read more here.