AAW SPECIAL: Performance Marijke de Roover - Live, laugh, limerence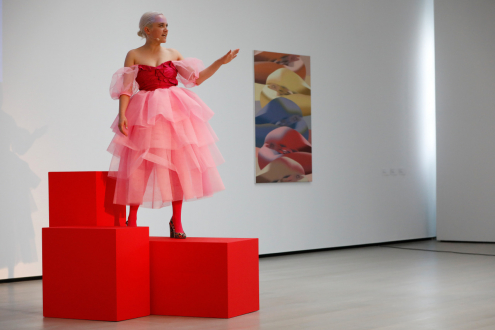 AAW SPECIAL: Performance Marijke de Roover - Live, laugh, limerence
Amsterdam Art Week 2021 Special
performance marijke de roover
Saturday 26 June, 15.00
Please RSVP - info@upstreamgallery.nl
Live, Laugh, Limerence - An opera buffa in four acts
In Marijke De Roover's new operatic performance Live, Laugh, Limerence the artist questiones the impact of how we choreograph and culturally organise the performance of love through heteronormative structures whilst luxuriating in every cliché of rom coms, musical theater, opera, karaoke and Disney.
Songs often attempt to describe how we feel when we're in love. And as they're describing, they are also telling us how we should feel, creating norms we can compare to our own experiences
But opera specifically is filled with tales of violence. Its whole history relies on great passions tragically predetermined by social inequalities. These are usually crueler and more exclusionary towards women and other minorities occupying symbolically weaker positions of power. The Tragic Heroine was one of the key figures of the invention of an erotics of heterosexual desire, which emerged alongside the invention of homosexuality as identity. Her fatal flaw was her attraction to catastrophe; her other fatal flaw was her fidelity in love.
As a result of the suppression of real women, culture invented its own representation of the gender, and it was this fictional "Woman? who appeared on stage representing the patriarchal values attached to the gender while suppressing the experiences, stories, feelings and fantasies of actual women.
De Roover is interested in presenting romantic friendship as a continuation of Adrienne Rich's concept of the 'Lesbian Continuum' "the overall range—through each woman's life and throughout history—of woman-identified experiences, not simply the fact that a woman has had or consciously desired genital sexual experience with another woman" and to remodel this idea into a new kind of love that doesn't have a precedent in contemporary media representation.
Publication date: 10 Jun '21