Jan Robert Leegte in exhibiton Into Nature, Emmen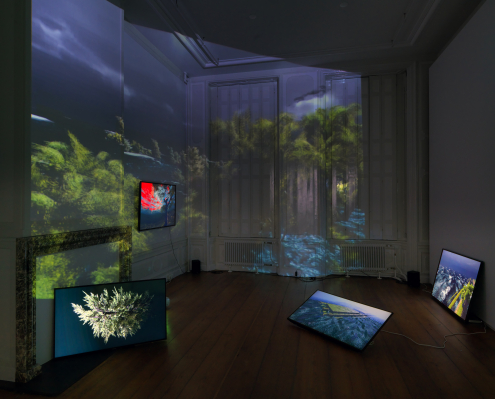 Jan Robert Leegte in exhibiton Into Nature, Emmen
Jan Robert Leegte's work is included in the large scale exhibition Into Nature in Emmen, curated by Hans den Hartog Jager.
into nature
From 31 July you can cycle and walk to see works by top international artists such as Roger Hiorns, Marguerite Humeau and Otobong Nkanga in the Bargerveen near Emmen. Into Nature is an art expedition through the Drenthe landscape with works by internationally renowned artists. After the fascinating first edition in 2016, Into Nature was shown in 2018 in Frederiksoord and on the Holtingerveld.
performing a landscape
What is the essence of a landscape? The trees? The water that flows? They seem eternal, but meanwhile that water continues to flow, and the trees change with new branches and leaves. Can a landscape be captured in one idea?
Leegte's installation, which spans no fewer than nine screens, shows us a different idea of a landscape than we are used to: something that is temporary, unique, and irreplaceable. And precisely because you as a spectator are completely absorbed in it, dragged along, you realize even better how special it is – and that every landscape is perhaps worth paying a little extra attention to.
More info here.
Publication date: 21 Jul '21