Upstream Gallery and our artists in Jeannette ten Kate's article on NTFs in Tableau Magazine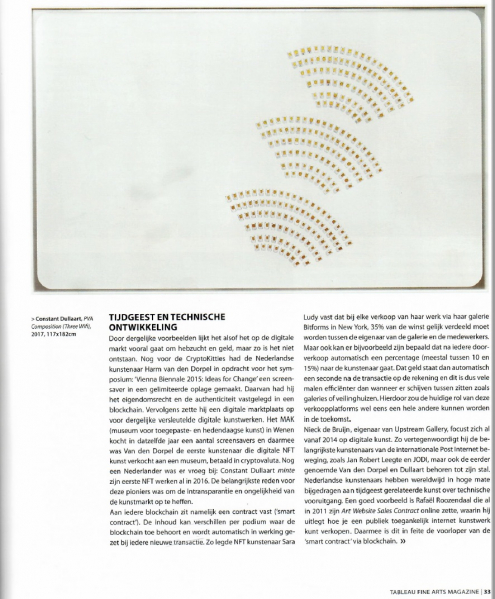 Upstream Gallery and our artists in Jeannette ten Kate's article on NTFs in Tableau Magazine
Art advisor Jeannette ten Kate delves into the emergence of NFTs and what they mean for digital art in Tableau Fine Arts Magazine.
"Nog voor de CryptoKitties had de Nederlandse kunstenaar Harm van den Dorpen in opdracht voor het symposium: 'Vienna Biennale 2015: Ideas for Change' een screensaver in een gelimiteerde oplage gemaakt. Daarvan had hij een het eigendomsrecht en de authenticiteit vastgelegd in een blockchain. Vervolgens zette hij een digitale marktplaats op voor dergelijke versteutelde digitale kunstwerken. Het MAK (museum voor toegepaste- en hedendaagse kunst) in Wenen kocht in datzelfde jaar een aantal screensavers en daarmee was Van den Dorpel de eerste kunstenaar die digitale NFT kunst verkocht aan een museum, belaatd in cryptovaluta. Nog een Nederlander was er vroeg bij: Constant Dullaart minte zijn eerste NFT werken al in 2016. De belangelijkste reden voor deze pioniers was om de intransparantie en ongelijkheid van de kunstmarkt op te heffen."
Read the article (upon subscription) here.
Publication date: 26 May '21