Dennis Rudolph's Portal in THE GATE in Hamburg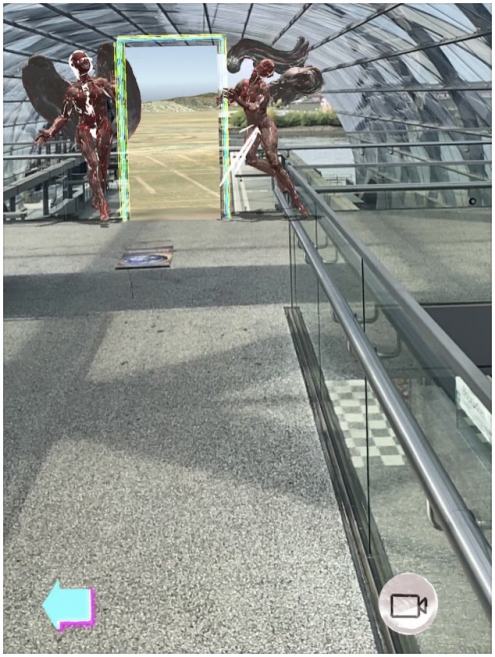 Dennis Rudolph's Portal in THE GATE in Hamburg
THE GATE explores Hamburg's identity through the well-known image slogan of the "gateway to the world". The two-part exhibition in the urban space makes use of the metaphor's diversity of interpretation and follows its traces where the city deals with itself: in HafenCity. In Europe's largest inner-city urban development project, a sense of tradition meets a striving for innovation; here, the latest vision of the "gateway to the world" is translated into built space. Each in its own format, the two parts of THE GATE show HafenCity as a constantly changing organism in which buildings and people interact. The five overarching chapters Control, Limbo, Paradise, Potency and Overseas combine a locally located audio library and an art trail that leads through HafenCity in 16 stations.
The art walk The artworks, most of which were created for THE GATE, intervene at various entrances and exits to the district. They take the gate metaphor as an opportunity to track down dimensions of urban space that receive little attention in everyday urban life. It is precisely its invisible, unconscious or unwanted elements that play a decisive role in how an urban space is perceived and accepted by its users. Each "gate" stands on its own and can be explored individually or in any order.
The audio library brings together ten entertaining podcast series that vividly convey interesting facts about the district from very different areas. Most of the content can be browsed at home or on the go. However, the more than 70 contributions work best on location in HafenCity. There, users can put together their own individual route from around 750 minutes of programme according to their interests and personal preferences. Either they are inspired by the recommendations and practical tips on the homepage, or they sort the programmes themselves according to topics, formats or locations and follow their personal tour on the map view.
Participating artists: Marlon de Azambuja, Eduardo Basualdo, Marc Bijl, Liesel Burisch, Angela Jiménez Durán, Omer Fast, FORT (Jenny Kropp & Alberta Niemann), Kapwani Kiwanga (special project), LU'UM (satellite), Joiri Minaya, artists of the Mundhalle (satellite), Franziska Nast, Tamu Nkiwane, Camillo Ritter, Dennis Rudolph, Curtis Talwst Santiago, Mark Wallinger, Svenja Björg Wassill.
Download the app for Rudolph's Das Portal here.
Read more & book a timeslot here.
Publication date: 26 May '21