Harm van den Dorpel about NFTS, Impakt TV, 8 April 2021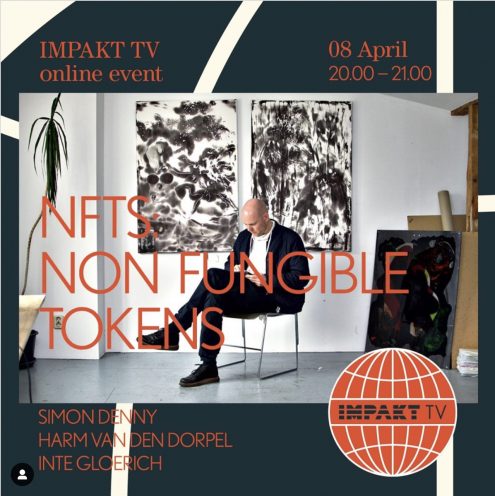 Harm van den Dorpel about NFTS, Impakt TV, 8 April 2021
IMPAKT launches a new series of monthly online events: IMPAKT TV. With IMPAKT TV they want to reflect on current social events and/or (artistic) debates by broadcasting a monthly online programme with conversations and reflections.
What is this new NFT blockchain craze everyone is talking about? The first IMPAKT TV programme on Thursday 8 April will be looking at the world of non-fungible tokens (NFTs). Unlike such popular cryptocurrencies as Bitcoin and Ethereum, these digital collector's items cannot be traded. Blockchain technology makes each non-fungible token unique and uncopiable, and only transferrable as a whole.
[..]
Our next guest is artist Harm van den Dorpel. In 2015, Harm van den Dorpel was the first artist to sell NFTs to a museum. Later, he founded left.gallery, a marketplace for blockchain artworks.
This first IMPAKT TV programme will be livestreamed on YouTube.
Register here to have the streaming link sent direct to your inbox.
Publication date: 7 Apr '21