Harm van den Dorpel and left.gallery in NFT group show Transfer Gallery, LA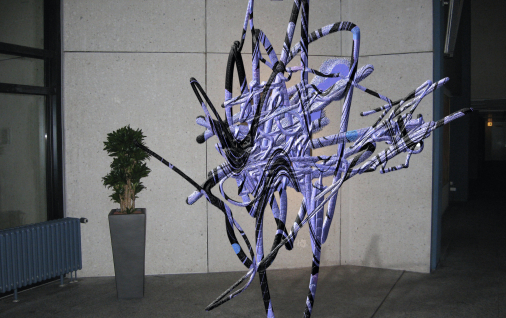 Harm van den Dorpel and left.gallery in NFT group show Transfer Gallery, LA
PIECES OF ME
TRANSFER is pleased to present Pieces of Me: an exhibition posed as an offering to the aggregate hype of the emerging global NFT marketplace. Installed online in partnership with left.gallery – an artist-run gallery producing and selling downloadable objects since 2015 – this panoramic group show invites dialogue about more equitable markets, custodial care, and contextualizing efforts in crypto-focused art.
PARTICIPATING ARTISTS: aaajiao, Morehshin Allahyari, Serwah Attafuah, Stacie Ant, LaTurbo Avedon, Zach Blas, Danielle Brathwaite-Shirley, Shamus Clisset, Harm van den Dorpel, Francoise Gamma, Carla Gannis, Julieta Gil, Claudia Hart, Auriea Harvey, Faith Holland, E. Jane, Huntrezz Janos, Isaac Kariuki, Casey Kauffmann, Keiken & obso1337, Wednesday Kim, Ryan Kuo, Kim Laughton, Lawrence Lek, Kristin Lucas, Sara Ludy, Kumbirai Makumbe, Claudia Maté, LaJuné McMillian, Cassie McQuater, Rosa Menkman, Lorna Mills, Marisa Olson, Eva Papamargariti, Pussykrew, RaFia, Tiare Ribeaux & Jody Stillwater, Olivia McKayla Ross, Mark Sabb & Devon Moore, Alfredo Salzar-Caro, Sydney Shavers, Rick Silva, Travess Smalley, Molly Soda, Olia Svetlanova, Theo Triantafyllidis, Krist Wood, Qianqian Ye, Alice Yuan Zhang.
The artists in this exhibition are known for their explorations of identity, being, and phenomenology in digitally-mediated realities, and represent a survey of the past, present and future of 'digital art'. In their works, avatars and identities are performed to explore our myriad modes of existence. These pieces serve as substrate for the thirsty, iterative cycles of technology. They question and subvert the exclusionary subtext of the softwares and systems that rule our day-to-day. Unfamiliar objects and artifacts appear as virtual trinkets, totems or talismans; initiated renderers perform rites and rituals to offer alternatives to the contextual void brought about by this dystopian era of hype. Shiny renders, memes, filth, jokes, machinima, abstraction, intimacy and embodiment polymerize into a sprawling aesthetic that extends backwards and forwards, as a reflection on this moment.
In a gesture of gratitude and good will, the artists in Pieces of Me toss a token into the wishing well--a mood, a costume, an avatar, an idea--an offering to the hungry gods of DeFi.
This show is presented as a hopeful look towards a more thoughtful market beyond the one that arose too quickly, and without care. There is no bidding – the artworks minted for this installation are unique tokens of appreciation, meant to be held and cherished, not flipped. The buyer chooses to either mint the work and receive it as a left.gallery token, or simply purchase with fiat and standard certificate of authenticity. Either way, when a work is acquired, 30% is re-distributed to the entire list of exhibiting artists, along with all the knowledge workers, technologists, and gallerists who made it possible.

We all wear accessories, adornments, costumes, and decorations to experience ourselves; and we've put these parts of our souls into the network. These pieces are inextricably linked to who we are and what we believe in. Piece of Me is a gilded sacrifice--a token of favor; or dowry from the ivory tower to the proclaimed knight in shining armor--to help shape what could grow into a more regenerative, historically robust, and thoughtfully stewarded cultural value system.
HOW IT WORKS
'Piece of Me' is presented at http://piecesofme.online and made available as NFTs on http://left.gallery

Artists receive 70% of sales, the remaining 30% is distributed to a pool of all the artists in the exhibition, along with the knowledge workers, contributors, technologists and gallerists making it possible.
The NFTs are available on a first come, first serve basis for a set price (no bidding).
Artworks are released as NFT 'offerings' over the course of the exhibition, buyers can purchase artworks in fiat with a standard certificate of authenticity at any time.
Buyers can pay in fiat or ETH for artworks delivered with the gallery's established custodial and certifying process, or can choose to mint the work when 'offerings' become available by covering 100% of gas costs.
IN PARTNERSHIP
TRANSFER was founded in 2013 to support artists working with simulation and computational processes.

left.gallery, founded in 2015 produces and sells downloadable objects & file-based art works.
Exhibition OPEN 24/7 – piecesofme.online
More info: TRANSFER.gallery / left.gallery
Press Contact: director@transfergallery.com
Image:
Harm van den Dorpel
Appearance 3 (2008)
Digital Image
Edition 1 + 1 AP
Publication date: 6 Apr '21