León & Cociña at Manifest Animation Show & Tell Livestream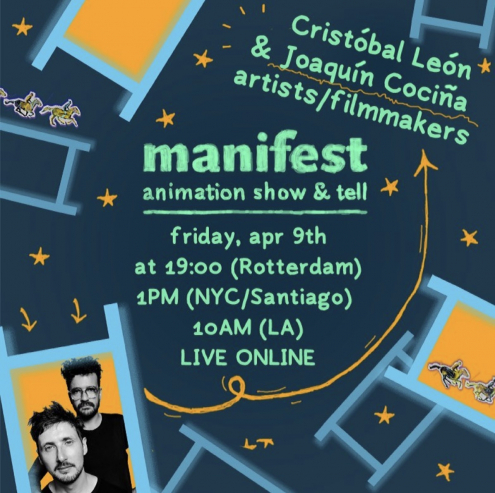 León & Cociña at Manifest Animation Show & Tell Livestream
The duo will join Manifest's livestream at their next animation discussion at WORM Rotterdam
Friday, April 9th at 19:00 Rotterdam time
'I'm very excited to host Cristóbal León and Joaquín Cociña, two artists whose work I've admired for many years. They will join me from Santiago de Chile to talk about an animation they find inspiring. The live stream will happen on Friday, April 9th at 19:00 Rotterdam time (that's 18:00 in London, 1PM in New York City/Santiago, or 10AM in LA). The event will be available to view after the fact, but if you tune in live you can contribute to the discussion via the chat box.
You may remember this duo from their 2008 short film Luis, or from their more recent feature film La Casa Lobo (which we talked about at an in-person Manifest a few years ago).
Cristóbal León and Joaquín Cociña (both 1980, Chile) have collaborated since 2007. They work in animation films, installations, paintings and sculptures, among other media. Both studied at the Universidad Católica de Chile. León also studied at UDK – Berlin and at De Ateliers, Amsterdam. For the production of their films they combine different techniques such as photography, drawing, sculpture and performance. León and Cociña have won several awards and their films are regularly selected for international film festivals. Their work has been exhibited in several museums and biennials, among which are Whitechapel Gallery, Guggenheim New York, KW Berlin, the Venice Biennale and Art Basel. They recently premiered their first feature film "La Casa Lobo" at the 68 Berlinale 2018, where they received the Caligari Award. They live and work in Santiago de Chile.'
More information here.
(Manifest graphic design by @Oana Clitan)
Publication date: 24 Mar '21