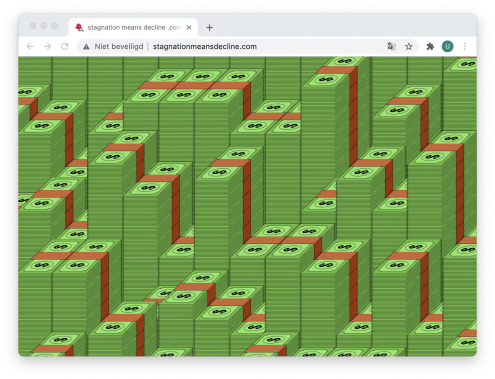 The selling of digital artworks and the NFT boom
As a gallery that focusses on digital art and the selling of it, the NFT boom does not pass us by. NFTs, or non-fungible tokens are, in the simplest terms, a way to transform digital works of art and other collectibles into one-of-a-kind, verifiable assets that are easy to trade on the blockchain. The crypto art market has been booming for several weeks, culminating in $ 69.3 million for one digital work auctioned at Christie's.
Upstream Gallery has been selling digital artworks for years and so have several platforms before us, as Rhizome's Michael Connor points out in this article: "it's important not to lose sight of the long history of experimentation with the sale of digital work, and with using market structures as sites for creativity, even without the NFT or the blockchain". For instance, Rafael Rozendaal published his Art Website Sales Contract online in 2011, which gives an insight in how to sell a public internet art work and has been adopted by a whole generation of net artists. NFTs provide a new way of fixing author- and ownership that wouldn't need this physical contract, carrying on the work Rozendaal did.

Then again, for several of our represented artists, NFTs are nothing new. In 2015, Harm van den Dorpel was the first artist to sell NFTs to a museum (see this article on ArtNews). After this, he founded left.gallery, a marketplace for blockchain ascribed artworks, where he sells "downloadable objects". In 2016, Constant Dullaart, just like Van den Dorpel, minted his first NFTs on the now defunct ascribe.io. Both artists were ahead of their time, but as Van den Dopel writes about ascribe.io: "Unfortunately, the state of blockchain technology then was not mature enough to support their business model; ascribe stopped offering their service around 2017".
We will eventually find out if the current renewed enthusiasm for NFTs will stabilize and form a sustainable market, and which role is reserved for galleries, platforms and auction houses. Still, there are a lot of question to be asked, like the enormous ecological cost and copyright issues.
We will keep a close eye on the developments. In the meantime, read more about NFTs and the art market below.
Insider trading tips: NFTs currently at auction
Harm van den Dorpel's Pixel Sorters at folia.app
Rafaël Rozendaal's Within Without at foundation.app
Recommended reading
Tokenizing Sustainability (Harm van den Dorpel)
Before the boom (Rhizome)
Rafaël Rozendaal on how digital art is always with you (Foundation)
Another new world (Rhizome)
MAK Vienna Becomes First Museum to Use Bitcoin to Acquire Art, a Harm van den Dorpel (ArtNews)
Flying cats and a burning Banksy: why are digital art prices suddenly rocketing? (The Guardian)
Publication date: 18 Mar '21