Gallery Surfing Session: Bob Bicknell-Knight and Dirk Paesmans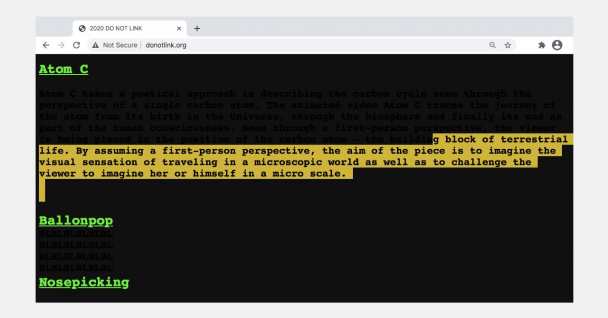 Gallery Surfing Session: Bob Bicknell-Knight and Dirk Paesmans
Live Streaming with Bob Bicknell-Knight, Dirk Paesmans, and Sakrowski – a Gallery Surfing Session live at
https://twitch.tv/pankegallery & https://panke.gallery/streaming
Wednesday, 3 March 2021 from 20:00 to 21:00
⎚
In this Gallery Surfing Session, Sakrowski will talk with Dirk Paesmans and Bob Bicknell-Knight about their exhibition
do not link http://donotlink.org produced by Upstream Gallery.
↓
2020 DO NOT LINK ⚠️ is an online exhibition concerned with ideas of virality and data distortion, featuring artworks and external links that explore the embedded hyperreality of our networked society.
●
Bob Bicknell-Knight
(b. Suffolk, UK) is an artist, curator and writer, working in several mediums including installation, sculpture, painting, video, and digital media. His work is influenced by surveillance capitalism and responds to the hyper consumerism of the internet. Utopia, dystopia, automation, surveillance and digitization of the self are some of the themes that arise through his critical examination of contemporary technologies. Recently, he's been undergoing a number of projects, from researching how drone technology is slowly re-shaping humanity to depicting tech billionaires as trophy hunters, alongside creating a body of work concerning the multinational technology company, Amazon, and its treatment of its employees within Amazon Fulfilment Centres around the world.
Bicknell-Knight is also the founder and director of isthisit? (https://www.isthisitisthisit.com), a platform for contemporary art, exhibiting over 800 artists since its creation in May 2016. Online, it operates as a gallery producing monthly exhibitions showcasing emerging to mid-career artists, hosting a roster of guest curators experimenting with the medium of the internet to interrogate a variety of concepts. The website also hosts monthly residencies, where artists are given a web page to create new work that exists on the internet as a piece of net art. Offline, it has held exhibitions nationally and internationally and is the publisher of isthisit?, an ongoing book series focusing on a variety of themes.
Selected solo and duo exhibitions include Eat The Rich at Galerie Polaris, Paris (2021), Pickers at INDUSTRA, Brno, Czech Republic (2021), Bit Rot at Broadway Gallery, Letchworth (2020), The Big Four, duo show with Rosa-Maria Nuutinen at Harlesden High Street, London (2019), Wellness, Ltd., duo show with Erin Mitchell at Galerie Manque, New York (2019), State of Affairs at Salon 75, Copenhagen (2019), CACOTOPIA 02 at Annka Kultys Gallery, London (2018), Sunrise Prelude at Dollspace, London (2017) and Are we there yet? at Chelsea College of Art, London (2017).
Bicknell-Knight has spoken on panel discussions and given artist talks at Contemporary Calgary, Canada (2020), Tate Modern, London (2019), University of Cambridge, Cambridge (2019), Camberwell College of Arts, London (2019) and Goldsmiths, University of London, London (2018).
Dirk Paesmans is an artist working and living in Dordrecht, the Netherlands. He studied under Nam June Paik at the Staatliche Kunstakademie Düsseldorf before attending CADRE, the electronic arts laboratory at San Jose State University in California. He started his career as a video artist, and since 1995 has been working together with Joan Heemskerk. Both form the artist collective JODI (https://jodi.org), known for its pioneering net-based artworks.
Publication date: 26 Feb '21