Harm van den Dorpel solo at Shimmer, Rotterdam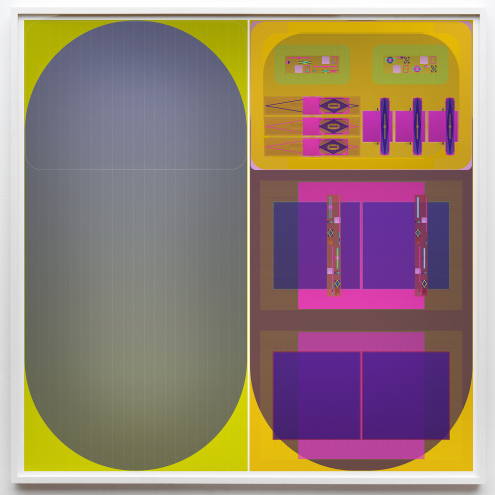 Harm van den Dorpel solo at Shimmer, Rotterdam
Harm van den Dorpel
A Field Without Boundaries
5 February - 12 June 2021
World as Lover, World as Self
Chapter 2: A Field Without Boundaries by Harm van den Dorpel
In Chapter 2: A Field Without Boundaries, we present a back-catalogue of works made by Harm van den Dorpel over the past few years. Starting in February 2021, Shimmer will regularly 'refresh' the exhibition to reformat the value systems of artistic and curatorial exhibition-making by creating shifting sets and generations within A Field Without Boundaries. In the first phase, we present work of his series Death Imitates Language, which emerged from a genetic algorithm written by the artist, then rendered onto acrylic glass through finely milled perforations that seduce the eye into seeing liquid forms. Presented at the same time is a series of nested brown paper bags from which the artist hand-cuts organic shapes. Referencing the chance-based practice of late dadaist artist Hans Arp, van den Dorpel creates logics within logics and layerings of chance.
About Harm van den Dorpel
Harm van den Dorpel (born 1981) is a Berlin-based artist whose practice includes the creation of sculpture, collage, computer animation, computer-generated graphics and interaction design. His work has been widely shown at exhibitions including the New Museum in New York, MoMA PS1 in New York, Ullens Center for Contemporary Art in Beijing, Museum of Modern Art in Warsaw, MMCA Seoul, ZKM Karlsruhe, and the Netherlands Media Art Institute in Amsterdam. In 2015, Van den Dorpel started "left gallery": an online gallery that commissions, produces, and sells downloadable files.
More info here.
Image: Harm van den Dorpel, Trebles (2019)
Publication date: 21 Jan '21