Tabor Robak in NGV Triennial 2020, Melbourne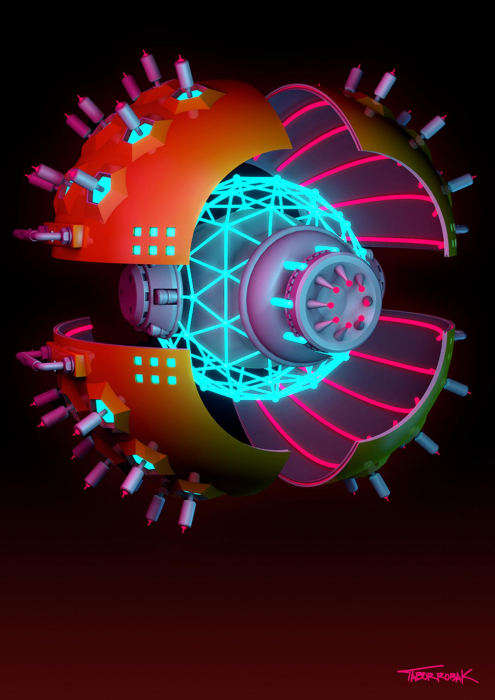 Tabor Robak in NGV Triennial 2020, Melbourne
A large-scale exhibition of international contemporary art, design and architecture at the National Gallery of Victoria in Melbourne, Australia. Featuring 86 projects by more than 100 artists, designers and collectives from 33 countries - opening December 19 2020 through April 18 2021.
megafauna 2020
Megafauna 2020 is a new work by Tabor Robak, which takes the form of an immersive installation spreading across a whole gallery space. Commissioned and acquired for the NGV Collection, Megafauna is a group of computer-generated animations that surrounds the viewer on video screens and projections.
Numerous highly detailed digital sculptures – called Magi – glow in the darkened space. On the floor a digital projection responds to our movement, and before us is a glowing control console. The imagery in Megafauna is visually derived from micro-biology, advanced robotics, data storage, and sacred iconography. The installation, lit by the light of these numerous digital images, feels like a sacred space or a monument.
Moving constantly on the screens of the Magi are animated forms – part-organic, part-machine – that recall the technologies that Artificial Intelligence (AI) is most likely to emerge from: geoimaging and cartography, military science and weaponisation, banking and healthcare.
Megafauna is about the mythology of AI and advanced technology, exploring the god-like importance we place on it in our present trajectory as a society. The work explores the ethical and philosophical implications of our attitude to technology.
ABOUT
Tabor Robak is a new media artist who graduated in 2010 from the Pacific Northwest College of Art. Since this time he has participated in over 60 exhibitions worldwide, including seven solo shows in the US and Europe. Robak's art has been exhibited in over 15 countries and has been acquired by a number of major museums, including the Museum of Modern Art, New York; The Metropolitan Museum of Art, New York; and the Migros Museum für Gegenwartskunst, Zürich. His work examines the relationship between humanity, nature, and technology, often blurring the lines of the real and artificial.
The NGV warmly thanks Triennial Champions Barry Janes & Paul Cross for their support.
Deakin University is proud to support Tabor Robak to present Megafauna for NGV Triennial 2020. Vice-Chancellor Professor Iain Martin said, 'The opportunity presented by immersive environments through design is a shared interest in both Robak's work and Deakin's suite of creative and design programs, and research innovations. Our coming together presents exciting opportunities to use design to rethink our future.'
Publication date: 11 Dec '20