Book / edition by Rafaël Rozendaal and Three Star Books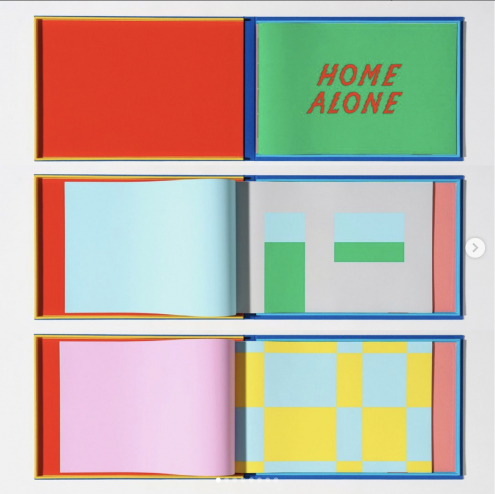 Book / edition by Rafaël Rozendaal and Three Star Books
Rafaël Rozendaal created HOME ALONE, a book / edition / project in collaboration with Three Star Books.
Rafaël Rozendaal artist's studio is his home and vice versa. Rozendaal lives most of his artist life within hard disks. After designing and programming on a computer the websites he is famous for — Rozendaal's work is uploaded on distant servers and experienced by millions of internet viewers.
When we met again — many years after the artist collaborated with onestar press in 2003 — we knew that the challenge to publish — what Rozendaal usually proposes to the viewer as an interactive digital experience — was going to be an inspiring one.
Soon after RR posted a video tour of his studio/home on @newrafael and presented the simple colorful vector diagrams the artist is using as starting points for his websites, we asked Rozendaal to think with us on an adaptation of these digital sketches on paper with ink.
Between hard-edge abstraction and representation of landscapes, architecture and usual objects, we determined that RR's computer drawings would translate well with silkscreen.
Quickly RR sent us a selection of files that we laid out in a large format with a landscape ratio — recalling those of the computer screen — with a selection of plain colors that would face the diagrams on the double page spreads. The very next day the artist sent us the title of his project: "HOME ALONE". His ability to make things fluid embodies RR's artistic strength. Now, as the work was transferred to our studio and our our goal to preserve the ethereal and immaterial quality of these digital works, we suggested the artist print on a very soft paper with the minimum bulk possible to create a fifty-six page signature stitched together in a manner that would make the book's manipulation almost impossible unless the volume is presented flat on a table.
The path between an abstract idea and it's materialization is a difficult task that every artist has to achieve in order to create a tangible experience for the viewer. In the case of RR this path is reduced to the minimum and the phrase: (coined by Marshall McLuhan) "The Medium Is The Message" seemed perfect and all along the production of "HOME ALONE" it never left us.
The cover and the interior pages are printed on the same paper and bound with a color cotton thread. The book is housed in a hot stamped clamshell custom box (with unique combinations of colors) that also serves as a display device.
Note that the font used on the cover and the colophon of "HOME ALONE" is designed by the artist adapted from an old cartoon.
More info / inquiries here.
Publication date: 25 Nov '20