Tabor Robak solo exhibition at Edward Ressle, Shanghai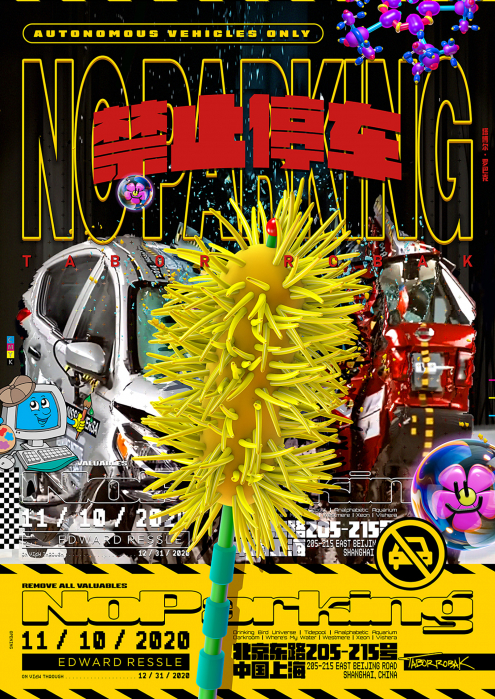 Tabor Robak solo exhibition at Edward Ressle, Shanghai
Edward Ressle is delighted to announce the opening of No Parking, a presentation of nine works surveying the first decade of Tabor Robak's pioneering digital practice. Like the work of groundbreaking artists throughout history, Robak's precisely rendered and visually stunning animations push the boundaries of what art can be, challenging traditional artistic categories and opening the way for new possibilities of expression. The artist's first solo exhibition in Asia, No Parking features three new print works alongside seminal examples of Robak's surreal and immersive animations, showcasing the potential beauty of digital aesthetics alongside the disquieting emptiness that follows in the wake of passive consumption. On the cusp of a world radically altered by new protocols managing movement and socialization, the works in No Parking offer a timely reflection on our relationship to online life. For if Robak's aesthetic is suffused with a latent anxiety and palpable skepticism, it is also born from a lifelong affection for the digital medium as a site for imagination and possibility.
Visitors to No Parking will be greeted with a mise-en-scène of a parking garage, though one radically different from the familiar structures that dot our cities. This is a lot for autonomous vehicles; traditional manuals and automatics aren't allowed entry. As machine learning advances and algorithms grow in complexity, the border between physical reality and digital architectures becomes murkier. With their rectangular modules and one-way traffic patterns, parking garages essentially program human driving behavior. But in a garage for autonomous vehicles, physical architecture exists alongside the digital programming of smart cars, and is transformed into a site where online/offline distinctions are of little consequence. The same is true of Tabor Robak's practice.
Fluent in an array of programs like After Effects, CINEMA 4D, Photoshop, and Unity, Robak feeds his experience as a commercial designer back into his practice as an artist. The results are a dizzying form of digital hyperrealism, one in which all parts of his imaginative compositions and films are rendered equally clear to the eye in vivid color. In animations like Tidepool and Darkroom (both 2016), both of which are procedurally generated and infinite in duration, Robak takes advantage of all that digital tools offer in cultivating a contemporary corollary to the Romantic notion of the sublime. Each features one billion colors, ceaselessly unfolding in patterns and textures in accordance to Robak's original software. Prints like Xeon, Westmere, and Vishera (started in 2013 and finished in 2020) are inspired by the dense circuitry and saturated colors of CPUs, enlarged to the point where the ubiquitous hardware transforms into works resembling the aesthetics of geometric abstraction. Backlit, their glow brings to mind contemporary cloud computing facilities, and reveals the degree to which Robak's command of digital tools translates back into seemingly tactile, material works of art.
Among No Parking's highlights are Where's My Water? (2015), an edition of which was recently acquired by the Metropolitan Museum of Art, New York, and previously exhibited at the Yuz Museum in Shanghai in 2016. Across twelve screens, writing implements, household cooking tools, and toothbrushes fill empty drinking cups and plastic containers. No details are overlooked, as the sharp contours of familiar brand-name pens and markers fall from the sky, bounce, and silently settle into place. Just as Bruce Nauman's self-reflective and endurance-based studio performances scrutinize the process of artistic creation, so too does the tedious nature of Robak's practice feature prominently in Where's My Water?. As a deeply personal meditation on labor, Where's My Water? depicts the evaporation of work-life balance in an animation that is as enchanting as it is haunting.
Drinking Bird Universe (2018) occupies the uncertain space between enraptured attention and brooding anxiety. A familiar cell phone lock screen is blown up to monumental proportions, pools of luscious color flowing across the background. What at first appears like a twenty-first century lava lamp, calming and meditative, reveals itself to be more of a Venus flytrap. Lost in the screen's psychedelic colors, viewers might miss the live news notifications that flash near the bottom. These are real-time updates sourced from CNN news RSS feed, which punctuate the meditative viewing experience with the global events in which we are so thoroughly entangled. As an artwork that speaks forthrightly of the contemporary textures of lived experience, an edition of Drinking Bird Universe was included in Art in the Age of Anxiety (2020) at the Sharjah Art Foundation.
Tabor Robak (b. 1986, Portland, OR) is one of the most important artists of the twenty-first century, standing out among a younger generation working to push the boundaries of digital aesthetics. As imaginative and playful as they are surreal, Robak's immersive animations spring from his early love of software and digital tools. Having taken on commercial design projects since his early teens, Robak later worked with firms like Nike and AT&T after graduating from the Pacific Northwest College of Art, Portland, with a BFA in 2010.
His work is included in major international collections, including the Albright-Knox Art Gallery, Buffalo, NY; Cornell Museum of Fine Arts, Ithaca, NY; Metropolitan Museum of Art, New York; Museum of Modern Art, New York; National Gallery of Victoria, Melbourne; Serpentine Galleries, London; and the Yuz Foundation, Jakarta. Recent major museum exhibitions include Art in the Age of Anxiety, Sharjah Art Foundation, (2020); Open World: Video Games & Contemporary Art, Akron Art Museum, Ohio (2019–21; Traveling to: Currier Museum of Art, Manchester, NH; San Jose Museum of Art); Screen it, Stadstriënnale Hasselt-Genk (2019–20); New Order: Art and Technology in the Twenty-First Century, Museum of Modern Art, New York (2019); and I Was Raised on the Internet, Museum of Contemporary Art, Chicago (2018). Robak will present a new piece at the National Gallery of Victoria (NGV) Triennial in December 2020.
Special projects include a 2017 commission for the Microsoft Cultural Wall in New York, as well as the presentation of Liquid Demo at the Barclay's Center as part of the Public Art Fund's Various Artists: Commercial Break. Robak has recently collaborated Balenciaga to produce an animation scored by DJ Hell, and in 2019 exhibited a piece in Maison Margiela's Transitory Concept Store in New York's SoHo district.
More info here
Publication date: 13 Nov '20