Marc Bijl in group show 'This is not a love song' in Madrid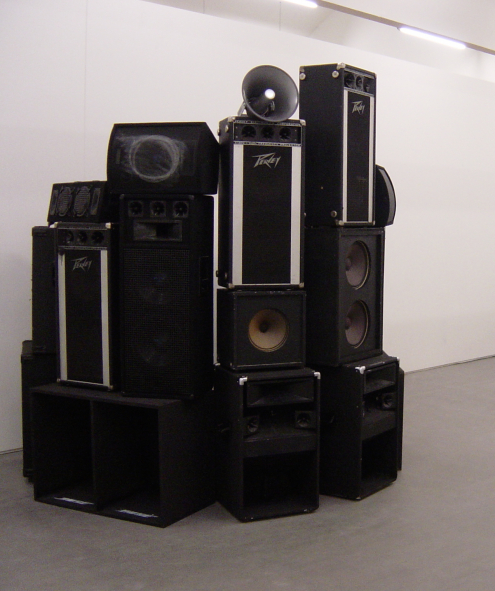 Marc Bijl in group show 'This is not a love song' in Madrid
Work by Marc Bijl is included in the group show This is not a love song at the Fernán Gomez Cultural Center in Madrid.
This Is Not A Love Song is the third part of a trilogy of exhibitions with which we try to trace a genealogy of the relationships between the visual arts and pop music from the second half of the 20th century to the present, with an emphasis on those moments in those that both manifestations fed each other and moved synchronously in the territory of experimentation, utopia or political incorrectness.
Rock is the first postmodern cultural movement in which the barriers between high and low culture, "new artistic behaviors" and the culture industry are dynamited.
In this exhibition he tells "another" art history "and reveals the relationship of some of the most significant artists of the second half of the 20th century with music, video art and the" new artistic behaviors "passed through the filter of the popular music.
Curator: Javier Panera (Master Director of Advanced Studies in Art History - University of Salamanca.
A project of Screen Projects.
Artists in the show: Andy Warhol, Vito Acconci, Art & Language, John Baldessari, Joseph Beuys, Saâdane Afif, Cabello/Carceller, Dan Graham, Yoko Ono, Adel Abidin, Nam June Paik, Barbara Kruger, Guerrilla Girls, Bruce Nauman, Richard Avedon, Lawrence Weiner, Joseph Kosuth, Sol Lewitt, Ronald Nameth, Marc Bijl, Rodney Graham, Gisèle Vienne, Patric Chiha, Tony Oursler, Christian Marclay, Mike Kelley, Douglas Gordon, Jeremy Deller, Mark Leckey, Richard Hamilton, Robert Rauschenberg, Pussy Riot, Cindy Sherman, Judith Barry, Richard Kern, Javier Fresneda, Assume Vivid Astro Focus, Filip Custic, Eric Siegel, Tony Cokes, José Iges, Largen & Bread, Raymond Pettibon, Jean Claude Cubino, Luis San Sebastián, John Di Stefano, Linder Sterling o Montse Galán.
More info here.
Image: Marc Bijl, Reasons to believe, 2004
Speakers, cd-players and political speeches.
Publication date: 29 Sep '20