Noor Nuyten designs De Gouden Berg Award for NFF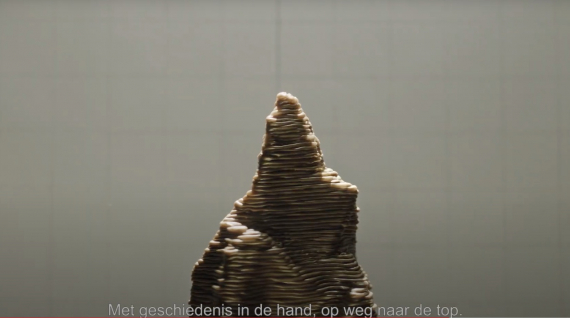 Noor Nuyten designs De Gouden Berg Award for NFF
Noor Nuyten has designed the award for the 2020 Gouden Berg award at the Dutch Film Festival (NFF). The Gouden Berg Award is awarded at the NFF from the city of Utrecht for the best directorial debutes - the winner obtains a cash prize and an artwork.
Noor Nuyten has designed the Golden Mountain Award from recycled film material mixed with recycled 24 karat gold - together with Van Plestik, Nuyten had used a 3D printer to bring the award to life. The award is made from a 35 metre long wire, representing 35 metres of film history. The NFF Gouden Berg will be awarded on the 2nd of October 2020.
For more information, see the NFF promotion clip here.
Publication date: 2 Oct '20