Upstream's Net Art Update (#45)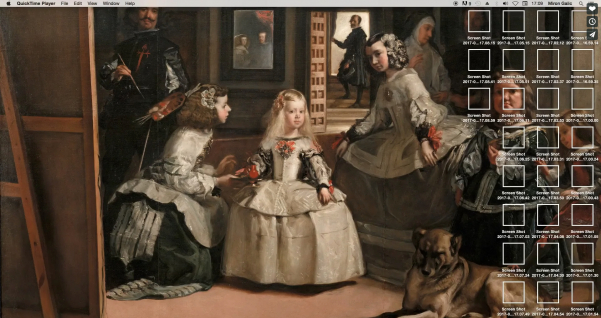 Upstream's Net Art Update (#45)
Upstream's Net Art Update (#45). Featured in the exhibition Echo on our online platform www.upstream.gallery (curated by Jan Robert Leegte).

Today: Miron Galic, Window, 2017. Find the work here: https://vimeo.com/235160092.

The classic "Las Meninas" by Diego Velázquez is notoriously self aware of the representational value of a painting, itself being an echo chamber of mirroring. In the work of Galić he has used the work as desktop image, and in a performative gesture tries to copy the work in a layer of screenshot thumbnails. The thumbnail being a representation of the screenshot becomes the actual material.
Miron Galić (Sarajevo, 1990) is a bored, numb and burned-out millennial. The many hours spent behind the interfaces of the artist's beloved iMac and iPhone have taken their toll years ago; Tired of living in a timeline polluted by poor conversations and fears-camouflaged-as-ideologies, Miron has exhausted every built-in reward system his beloved devices have to offer, and has thus become less and less able to cherish the beauties of nature, art, and 'the Moment' itself. Ironically enough, the 29 year old tends to find comfort in his iMac and iPhone as well—exploring a variety of ways in which widely available apps such as Photo Booth, Google Maps and Instagram can be deployed to philosophize about age-old themes such as flight, mother-tongue, and the measurement of time. Miron's works are informed by romanticism as well as the conceptual tradition, combined with a healthy dose of naivety, and have recently materialised as performance, video, written text, and ready-made installation.

Sales inquiry: info@upstreamgallery.nl
Publication date: 31 May '20