Upstream's Net Art Update (#42)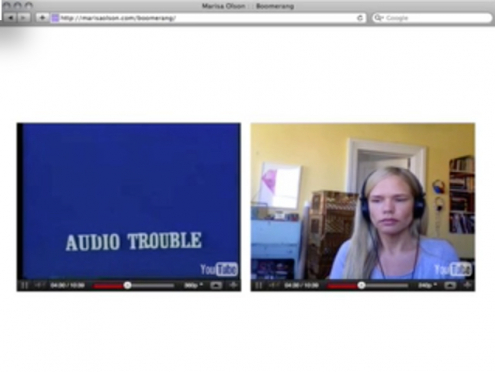 Upstream's Net Art Update (#42)
Upstream's Net Art Update (#42). Featured in the exhibition Echo on our online platform www.upstream.gallery (curated by Jan Robert Leegte).

Today: Marisa Olson, Performed Listening: Boomerang (Screencap), 2015. Find it at via https://www.upstream.gallery/.

A merge of Richard Serra and Nancy Holt's "Boomerang" (1974) with Olson's own YouTube response video to the work. She recorded these straight into a webcam that was streaming to the web, while listening to a video playing on the web, so the minute it happened, it was recorded. Originally the work was formulated as two youtube video's linked to each other, but in protest against the censorship by youtube, Olson took then down. In a way this screencap version is the echo of the performance, which in itself was a echo.
Marisa Olson is an artist, writer and curator. Her work combines performance, video, painting/drawing, and installation to address the cultural history of technology, experiences of gender, and the relationship between pop culture and politics. She was founding member of Nasty Nets, and coined the term Postinternet.

Sales inquiry: info@upstreamgallery.nl
Publication date: 27 May '20