Jeroen Jongeleen wins Brutus Art Prize, exhibition opening June 5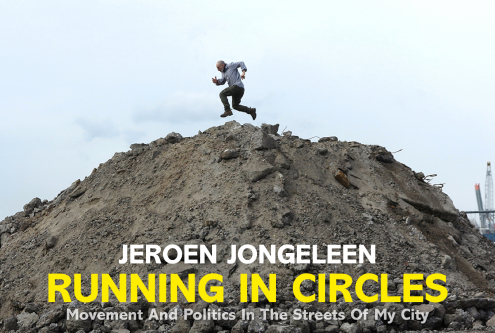 Jeroen Jongeleen wins Brutus Art Prize, exhibition opening June 5
AVL MUNDO is pleased to announce the official opening of BarBAAR, a new exhibition and performance site, making AVL Mundo Foundation one of the largest independent contemporary art spaces in The Netherlands. The first AVL Mundo exhibition in the space will be Running in Circles/ Movement and Politics In The Streets Of My City by Rotterdam-based artist Jeroen Jongeleen, the winner of the second annual Brutus Art Prize.

The exhibition will be on view June 5 – July 19, 2020, Fri Sat Sun,12-6pm and Thursday by appointment, at AVL Mundo, Keileweg 10-18, 3029 BS Rotterdam, Netherlands. In keeping with covid-19 restrictions booking tickets in advance is obligatory.
Opening
In keeping with covid-19 restrictions about large public gatherings, a virtual opening reception will be hosted on AVL Mundo Instagram and Facebook Live on June 5 at 6:30pm with the artist giving a tour of the exhibition and the presentation of the Brutus Art Prize to Jeroen Jongeleen by AVL Founder Joep van Lieshout.
A finissage, on July 18, will feature a 6-hour endurance performance, creating a new running in circles work live-streamed for audiences to witness. Stay Tuned.

Brutus Art Prize
Jeroen Jongeleen is the winner of the BRUTUS Art Prize 2020, and will be presented the award – a concrete sculpture and €4000 – on June 5. The prize is awarded annually to a groundbreaking artist and was initiated by Joep van Lieshout in 2019 to stimulate and celebrate artistic talent that offers new perspectives on art and society.
BarBAAR and AVL Mundo
BarBAAR celebrates its official opening with the summer exhibition, offering a new exhibition and performance space to the AVL Mundo compound encompassing two additional cavernous exhibition spaces Brutus and Kathedraal, as well as an Artist Residency and AVL Mundo Sculpture Park.
Joep van Lieshout stated: "With different art spaces closing, we find it more essential than ever to grow AVL Mundo to provide exhibition and event spaces for artists and makers, and to support Rotterdam's presence as a creative capital in Europe. During this challenging time, we realize the value of community and the role of art in our lives to connect and inspire us."
Publication date: 26 May '20