Upstream's Net Art Update (#40)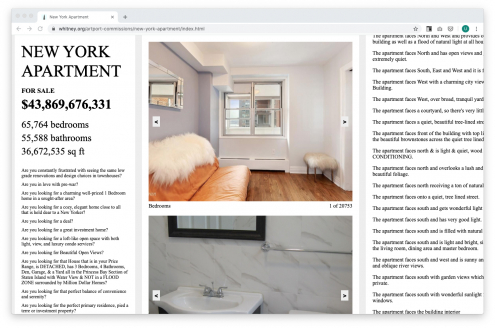 Upstream's Net Art Update (#40)
Upstream's Net Art Update (#40). Featured in the exhibition The New Outside on our online platform www.upstream.gallery (curated by Constant Dullaart.

Today: Sam Lavigne & Tega Brain, New York Apartment, 2020. Commissioned for the @whitneymuseum. Find it via https://whitney.org/artport-commissions/new-york-apartment/index.html

Sam Lavigne (USA, 1981) and Tega Brain (AU, 1982) created a website that advertises a fictitious New York City apartment for sale that covers more than 300 million square feet and spans the five boroughs. Compiled from actual online real estate listings, the artwork collapses the high and low ends of the market, architectural periods and styles, and neighborhoods and affordability into a single space that cumulatively creates a portrait of New York's living spaces and the real estate market. These 'beautiful' property landscapes show all available real estate capital of the city in which the artists are both currently in quarantine. The work was commissioned and is shown by the Whitney Museum of American Art.
Tega Brain has created wireless networks that respond to natural phenomena, systems for obfuscating fitness data, and an online smell-based dating service. Her work has been shown in the Vienna Biennale for Change, the Guangzhou Triennial, and in institutions like the Haus der Kulturen der Welt and the New Museum, among others.
Tega is an Assistant Professor of Integrated Digital Media, New York University
Sam Lavigne is an artist and educator whose work deals with data, surveillance, cops, natural language processing, and automation. He has exhibited work at Lincoln Center, SFMOMA, Pioneer Works, DIS, Ars Electronica, The New Museum, the Smithsonian American Art Museum. He is an Assistant Professor in the Department of Design at UT Austin.only place where we can see ourselves outside of ourselves as a referent only.
Publication date: 13 May '20