Upstream's Net Art Update (#37)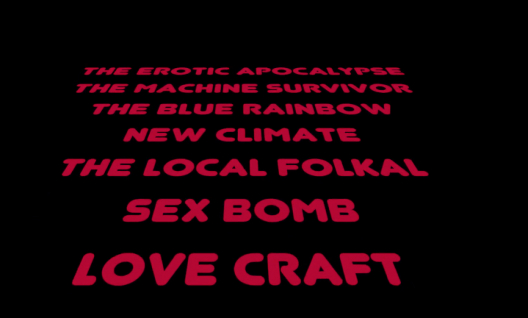 Upstream's Net Art Update (#37)
Upstream's Net Art Update (#37). Featured in the exhibition The New Outside on our online platform www.upstream.gallery (curated by Constant Dullaart.

Today (an excerpt of): Suzanne Treister, SURVIVOR (F) / SCREENSAVER 2, 2016. Video, watch it via https://www.upstream.gallery/.

Suzanne Treister (GB, 1958) has worked across multiple formats—, painting, video, the internet, interactive technology, printed matter, charts, and diagrams—to explore structures of power and knowledge. Initially recognized in the 1980s as a painter, she became a pioneer in the digital/new media/web based field from the beginning of the 1990s, making work about emerging technologies, developing fictional worlds and international collaborative organisations. Utilising various media, including video, the internet, interactive technologies, photography, drawing and watercolour, Treister has evolved a large body of work which engages with eccentric narratives and unconventional bodies of research to reveal structures that bind power, identity and knowledge. Often spanning several years, her projects comprise fantastic reinterpretations of given taxonomies and histories that examine the existence of covert, unseen forces at work in the world, whether corporate, military or paranormal. An ongoing focus of her work is the relationship between new technologies, society, alternative belief systems and the potential futures of humanity. Her SURVIVOR (F) series is an hallucinogenic exploration of a future reality in undetermined time and space. Whether manifestations of a survivor of the human race, on earth, in space, on a new planet or parallel universe, or of an artificial superintelligence (ASI), SURVIVOR (F) presents visions of a post-futuristic sublime, charting an existential imaginary of potential human/non-human agency/non-agency, of the psychedelic consciousness of SURVIVOR (F). Survivor (F) is a poetics of the future, a contemporary futuristic alchemical depiction of the universe and beyond.

Sales inquiry: info@upstreamgallery.nl
Publication date: 8 May '20