The New York Times on JODI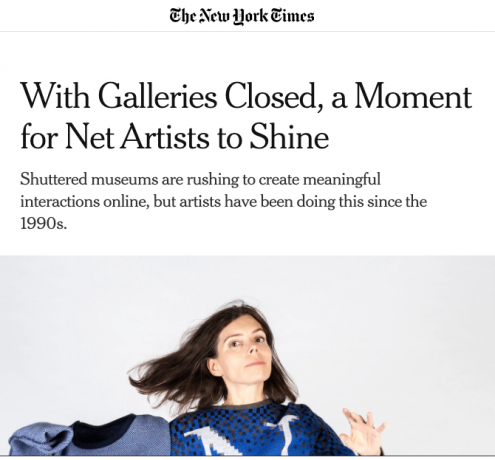 The New York Times on JODI
The New York Times also notices the urgency for Net Art in these times, mentioning the work of JODI, Olia Lialiana and Petra Cortright who are all included in our (current and past) group shows on www.upstream.gallery.
"While many of us have grappled with how to have meaningful engagements with visual art through our screens, it's become clear that some artists were creating those decades ago. It was just that the art world wasn't really paying attention."
"In fairness, curators haven't been entirely blind to net art's significance. New York's New Museum excavated key works for a retrospective last year, and the expanded MoMA has given an entire room to a work by the pranksterish Dutch duo JODI entitled "My%Desktop": a frenzied "desktop performance" that shows a Mac in meltdown, alerts pinging and windows opening and closing at random."
Read the full article here.
Publication date: 7 May '20