Rafael Rozendaal in conversation with Christiane Paul for LIMA Online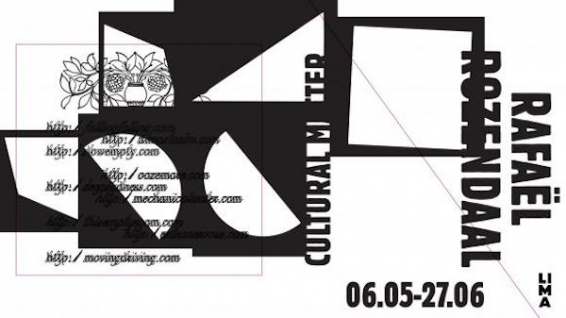 Rafael Rozendaal in conversation with Christiane Paul for LIMA Online
ONLINE EVENT
Cultural Matter: Rafaël Rozendaal in conversation with Christiane Paul
Wednesday 6 May, 20h00 CET
Link to the online stream: bit.ly/LIMAchannel
Rafaël Rozendaal
Rafaël Rozendaal (1980) is a Dutch-Brazilian artist who currently lives in New York. His artistic practice comprises websites, installations, prints and writing and is as innovative as it is rooted in art history. His work takes shape through a range of transformations – from movement into abstraction, from virtual into physical space, and from website to print – with all of them informing each other. Open access to his websites is of great importance to him. Collectors and collections must, once purchased, keep the work online and publicly accessible. The way in which Rozendaal uses the internet in its work goes beyond the browser. The internet is his canvas, but he also brings the aesthetics of the internet to the physical and poetic space in the form of carpets, haikus and installations.
Christiane Paul
Christiane Paul is Chief Curator / Director of the Sheila C. Johnson Design Center and Professor in the School of Media Studies at The New School, as well as Adjunct Curator of Digital Art at the Whitney Museum of American Art. Paul is the recipient of the Thoma Foundation's 2016 Arts Writing Award in Digital Art. At the Whitney Museum she curated multiple exhibitions and is responsible for artport, the museum's portal to Internet art. Other curatorial work includes The Question of Intelligence (Kellen Gallery, The New School, NYC, 2020). Little Sister (is watching you, too) (Pratt Manhattan Gallery, NYC, 2015); and What Lies Beneath (Borusan Contemporary, Istanbul, 2015).
Cultural Matter: Rafaël Rozendaal
Rafaël Rozendaal is an artist who works with the materiality of the Internet. Many of his artworks are at home on the web, and deal with the context that this specific environment offers. Since 2000, Rozendaal has created dozens of generative websites, characterized by an abstract and colorful visual language. This online edition of Cultural Matter 2019-20, will present a selection of ten websites by Rozendaal that gives a broad overview of his online practice and demonstrates his interest in art history, geometric abstraction and animation. With shapes that are reminiscent of Kazimir Malevich's early abstract experiments and animations that bring to mind Suprematist compositions in motion, some of the websites seem indebted to the early experiments with abstraction of the Russian avant-garde. A number of websites reflect the tension between the manifestation of digital and physical reality, or contain a pronounced degree of suppressed emotion: a work like deepsadness.com seems to be about endlessness and loss.
Cultural Matter
Cultural Matter is a series of exhibitions and events that provide a platform for the international discussion of digital art and highlights the enduring expressive power of digital artworks: works in which art and technology and the past and the future come together in a way that is as logical as it is groundbreaking.
Also part of this series: JODI, Jonas Lund, Martine Neddam, Thomson & Graighead, Amalia Ulman
Curated by: Sanneke Huisman and Jan Robert Leegte.
Upcoming Events
Cultural Matter: Michael Connor (Rhizome) on online curating
Wednesday May 13, 20h00 CET
Exhibition
May 6 - June 27, 2020
24/7 ONLINE
Design by Lisa Arkhangelskaya
This programme is supported by the AFK (Amsterdam Fund for the Arts) and Stichting Niemeijer Fonds.
Publication date: 5 May '20