New online work Jan Robert Leegte launched on Open!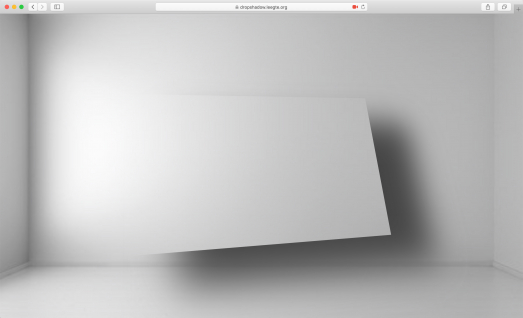 New online work Jan Robert Leegte launched on Open!
In Drop Shadow, Jan Robert Leegte uses facial recognition to evoke formal responses through mirroring. The technique of facial recognition is often used commercially to identify the user to collect data for advertisement purposes. In a political sense, mirroring can be used to correct behaviour. In this work it is deployed to formally mirror you with an intangible object, namely an element of the standard interface. The interface has always been a battleground of expectation and response, and as such is also a mirroring medium. In this work, the drop shadow, an ornamental carrier of content, has been pushed forward to perform a 'pas de deux' with the user, resulting in an interactive sculpture that also alludes to the real-time presence of the interface surface and the deeper systems behind it. There is a real-time input and output of our mirroring, a reality usually hidden behind the pseudo-static appearance of the interface. The work also refers to Minimal Art, due to the focus on materiality. Although there is immediately a crux, since it also invokes elements of illusionism. Drop Shadow uses a stock image of a generic gallery wall, made in 3D software, taken from the internet. After slightly dissolving in JPEG compression, the wall shows a dancing simulated shadow. The work shows a theatrical evocation of the idea of minimalism and of materiality, something that happens constantly in our daily interaction with interfaces. This contribution is part of the publication and research project of Open! about sense of touch in the digital age.
More here.
Publication date: 5 May '20