Upstream's Net Art Update (#32)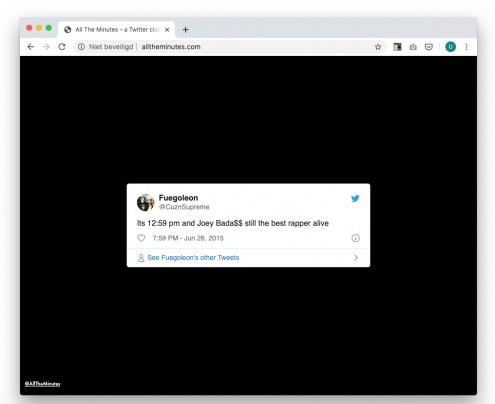 Upstream's Net Art Update (#32)
Upstream's Net Art Update (#32). Featured in the exhibition Quiet, Calm, Staring on our online platform www.upstream.gallery (curated by Rafael Rozendaal).

When you have to stay at home there's always Net Art. Art made for the internet, meant to be experienced at home, behind your own computer.

Today: Jonathan Puckey / Studio Moniker, All the Minutes, 2015. Find it at http://alltheminutes.com/.
Moniker is an Amsterdam based interactive design studio founded by Jonathan Puckey (who left the studio on 2016), Luna Maurer and Roel Wouters. With Moniker, they explore characteristics of technology, how people use it and how it influences people's daily lives. Often, the audience is asked to take part in the development of their projects. Their web-based project All the Minutes is a Twitter clock and shows Twitter posts that mention the current times.
Publication date: 26 Apr '20