Upstream's Net Art Update (#30)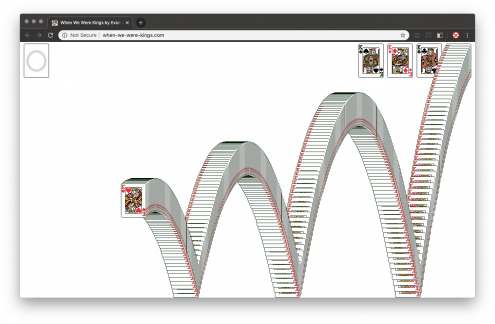 Upstream's Net Art Update (#30)
Upstream's Net Art Update (#30). Featured in the exhibition Quiet, Calm, Staring on our online platform www.upstream.gallery (curated by Rafael Rozendaal).

When you have to stay at home there's always Net Art. Art made for the internet, meant to be experienced at home, behind your own computer.
Today: Evan Roth, When We Were Kings, 2011. Collection of Pontus Lindwall. Find it at http://when-we-were-kings.com/.

Evan Roth (US, 1978) Evan Roth is an American artist based in Paris whose work visualizes and archives culture through unintended uses of technologies. Creating prints, sculptures, videos and websites, Roth is interested in the philosophies of hacker communities, as applied to digital and non-digital systems, and in the relationship between misuse and self-empowerment. When we were Kings is a website descriped as "A commemorative reconstruction of the original best friend of the bored at work network," which features the set up of a game of computer solitare with cards bouncing up and down against the bottom of the page leaving arches of cards in its wake.
Publication date: 24 Apr '20