Upstream's Net Art Update (#29)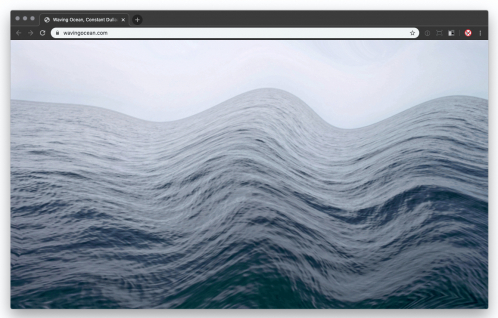 Upstream's Net Art Update (#29)
Upstream's Net Art Update (#29). Featured in the exhibition Quiet, Calm, Staring on our online platform www.upstream.gallery (curated by Rafael Rozendaal).

When you have to stay at home there's always Net Art. Art made for the internet, meant to be experienced at home, behind your own computer.

Today: Constant Dullaart, Waving Ocean, 2010. Collection of Pieter Sanders and Gabriella Sancisi. Find it at https://wavingocean.com/.

Constant Dullaart's (NL, 1979) often conceptual work manifests itself both online and off. Within his practice, he reflects on the broad cultural and social effects of communication and image processing technologies while critically engaging the power structures of mega corporations that dramatically influence our worldview through the internet. Dullaart raises questions of art vs. manipulation and asks the viewer to reconsider the proposed comfort and regularity they expect to find on the World Wide Web. A work which raises a question within the realm of the Internet is Waving Ocean, where an ocean on a calm day is animated with photoshop waves. The ocean becoming a malleable, organic entity, moving in ways that are completely unnatural and unfamiliar for water.
Publication date: 23 Apr '20