Upstream's Net Art Update (#28)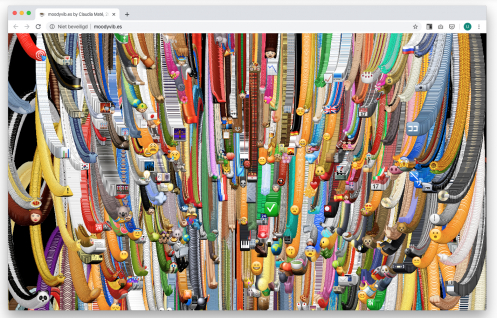 Upstream's Net Art Update (#28)
Upstream's Net Art Update (#28). Featured in the exhibition Quiet, Calm, Staring on our online platform www.upstream.gallery (curated by Rafael Rozendaal).

When you have to stay at home there's always Net Art. Art made for the internet, meant to be experienced at home, behind your own computer.

Today: Claudia Mate, Moody Vibes, 2013. Collection of Evan Roth. Find it at http://moodyvib.es/.

Claudia Maté (ES, 1985) lives and works in London, from where she has managed to make a name for herself with her art internationally, working on various formats of programming, video games, VR, gifs or sounds. Her web page Moody Vibes features hundreds of tiny emojis, twirling over one another on a black background with only a loud original Nokia ringtone to jolt you from its trippy screensaver visuals. Built using the _playGnd animation tool, developed by Nick Briz, it's ever expansive presence, testing a graphics processors' limitations, is typical of Maté's creations, her practice making her both an experimental digital artist and adept web-developer.
Publication date: 22 Apr '20