Upstream's Daily Net Art Update (#9)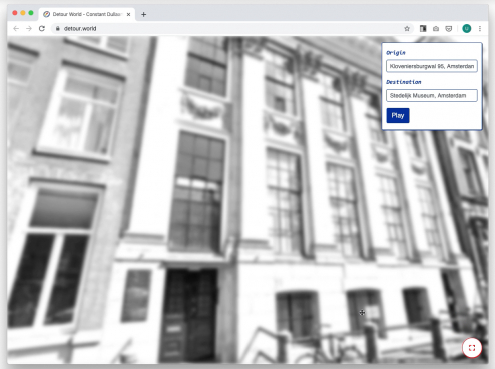 Upstream's Daily Net Art Update (#9)
Upstream's Daily Net Art Update (#9), for the heroes stuck at home to flatten the curve.

When you have to stay at home there's always Net Art. Art made for the internet, meant to be experienced at home, behind your own computer.
Today: Constant Dullaart, Detour World, 2020. Find it at detour.world. (Made in response to tiedye.world by Luca Napoli, made for Touch and Feel onlineopen.org). Detour world is a very topical new website, touching on the effects of the current global pandemic.

Detour World contains the tactility of a digital map, nostalgically planning a route we have travelled before. With restricted international travel because of the COVID-19 pandemic, these dreams of walking the planet take place in a different light. The default route is set to Mark Zuckerberg's daily commute as suggested by Google Maps. While Facebook and Google discuss making user data available to combat an infectious disease, the bright technological future fades like an old photograph. With each browser rendering this trip differently, we encourage you to travel your own route through memories of when the world seemed open and at your fingertips, while in lockdown.
Sales inquiry: info@upstreamgallery.nl
Publication date: 26 Mar '20