León & Cociña's 'La Casa Lobo' one of the 75 best movies of the decade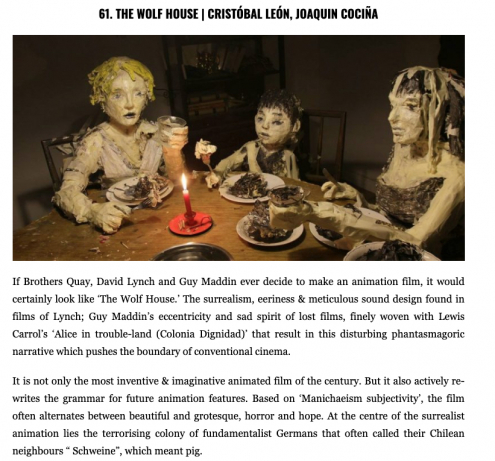 León & Cociña's 'La Casa Lobo' one of the 75 best movies of the decade
High on Films listed the film La Casa Lobo by León & Cociña as one of the 75 best movies of the decade (2010s).
"If Brothers Quay, David Lynch and Guy Maddin ever decide to make an animation film, it would certainly look like 'The Wolf House.' The surrealism, eeriness & meticulous sound design found in films of Lynch; Guy Maddin's eccentricity and sad spirit of lost films, finely woven with Lewis Carrol's 'Alice in trouble-land (Colonia Dignidad)' that result in this disturbing phantasmagoric narrative which pushes the boundary of conventional cinema.
It is not only the most inventive & imaginative animated film of the century. But it also actively re-writes the grammar for future animation features. Based on 'Manichaeism subjectivity', the film often alternates between beautiful and grotesque, horror and hope. At the centre of the surrealist animation lies the terrorising colony of fundamentalist Germans that often called their Chilean neighbours " Schweine", which meant pig."
Read the full article here.
Publication date: 11 Mar '20