Museums acquire LifeDresses by Alicia Framis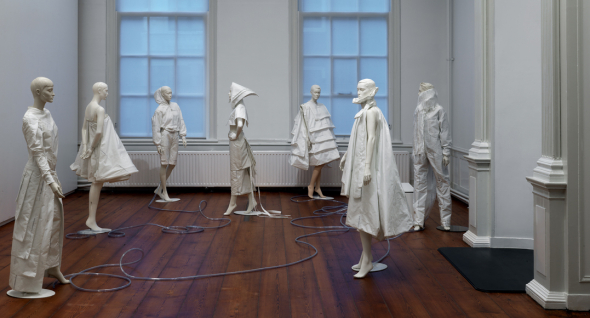 Museums acquire LifeDresses by Alicia Framis
Fashion, women and vulnerability: that's what the LifeDresses series by artist Alicia Framis (1967) is about. She made nine dresses from airbag fabric. The material blows up with unwanted intimacies. The Stedelijk Museum Schiedam purchased two works from this series: Sanne and Maria. Museum Arnhem acquired the Esther dress. Sanne can be seen from January 25 to February 9, 2020 as a supplement to the Modest Fashion exhibition.
Unacceptable behavior
"In this artwork you see an interesting mix between fashion, art, technology and activism," says Catrien Schreuder, head of Exhibitions and Collections in Schiedam. "It is close to the spirit of the times and makes you think about themes such as sexual cross-border behavior and the freedom of movement of women." Saskia Bak, director of Museum Arnhem: "This work fits well with our collection and our purchasing policy. We focus on feminist and gender issues. We have more work by Alicia Framis and it is therefore a valuable addition. "
Dress as a buffer
The material of the airbag fabric is high tech, comes from Japan and has not been used for a dress before. Most people know the airbag from the car. In the event of a collision, the air bag automatically inflates to a protective cushion. That also happens with this fashion line. If someone touches a woman in this dress, the fabric bulges there as a kind of protective buffer. Everyone immediately sees that she is touched.
Dress against dog bites
Framis previously made the Anti-dog series; Dresses made of materials that protect against bullets and dog bites. It was her contribution to the Dutch pavilion at the Venice Biennale in 2003. With that work, Framis anticipated the discussions surrounding the recent # MeToo movement. The LifeDresses are a new protest against grasped hands. Alicia Framis lives alternately in Amsterdam and Barcelona.
Modest Fashion
All LifeDresses were shown during the Art Basel international art fair last year. The leading American magazine ArtNews saw them there and put the series in the top 6 best works. Framis is no stranger to the Stedelijk Museum Schiedam. Her work can be seen until 9 February 2020 in the Modest Fashion exhibition. This installation consists of a series of canvases with the embroidered text Is My Body Public?
Upstream Gallery
In Schiedam, the LifeDresses of Alicia Framis fit the contemporary art collection with an emphasis on art about social and social developments. In Arnhem, the work is in line with the policy of mainly purchasing work from women. The museums bought the inflatable dresses at Upstream Gallery in Amsterdam.
Publication date: 21 Jan '20