Jen Liu in Singapore Biennale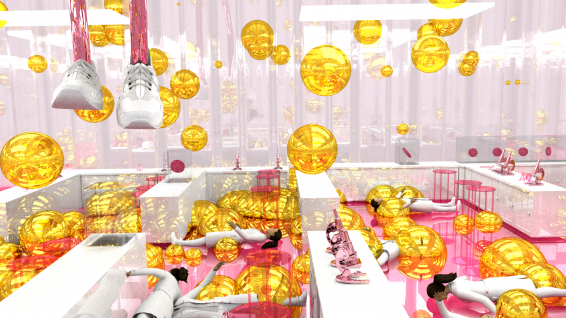 Jen Liu in Singapore Biennale
Jen Liu was commissioned for a large scale multi-media installation for the Singapore Biennale 2019, opening next week. The installation includes live performances, videos, set design, paintings and costumes.
pink slime caesar shift: gold edition
Pink Slime Caesar Shift: Gold Edition is a suite of live performances, video, set design, installation and paintings that reflect on the value and nature of gold. They investigate a diverse range of topics: gold-particle genetic engineering, gold as a principle of wealth, labour and trade, and how one's body and 'fate' can be altered by ingesting gold. Part of an ongoing series, this component explores biolistics, a method of shooting gold microparticles into cell walls to introduce a string of synthetic DNA into a cell organism. Installed at the Asian Civilisations Museum, the presentation extends the artist's interest to activate a conversation with collections, archival artefacts and notions of display.
singapore biennale 2019
Singapore Biennale returns for its 6th edition, with 77 artists and art collectives from Singapore, Southeast Asia and around the world. Titled Every Step in the Right Direction, the international contemporary art exhibition invites participation through the act of artistic exploration, drawing on the importance of making choices and taking steps to consider current conditions and the human endeavour for change.
performances
A choreography for 5 dancers based on methods of e-waste gold recyclingFriday
22 November 2019
8–8.30pm

Saturday
23 November 2019
6–6.30pm
Publication date: 14 Nov '19