Finissage Constant Dullaart - dull.life™ - Hack, Hustle, Historicize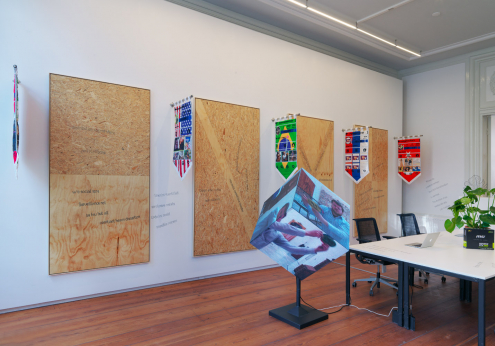 Finissage Constant Dullaart - dull.life™ - Hack, Hustle, Historicize
Finissage: Saturday 13 july, 16.00 -18.00
To conclude both dull.life™ exhibition and the past art season, Upstream Gallery invites you to raise the glass with us!
On Saturday 13 July, between 16-18h, we invite you in the gallery for a sunny drink.
dull.life™- hack, hustle, historicize
dull.life™ is a newly developed co-working concept initiated by Constant Dullaart. Dullaart presents dull.life™ as a communal context for a multitude of artworks, companies, projects and incentives.
By transforming the monumental canal side gallery into a commercially viable co-working space and placing a selection of his recent artworks within this environment, works are framed in a setting of efficient creativity. The economy around maximizing creative output creates an aggressive surrounding, commodifying the artworks within their own context. Separating itself from older relational aesthetics references, the artworks polemically, yet preemptively camoufl age themselves within a status of ornament. On the walls of dull.life™, the artworks appear as decorative commercial products, but are also artworks that examine and critique the working conditions of the co-working space.
Dullaart recreates a surrounding in which labor ethics and identity within a post-truth, postcolonial and post-social economy are questioned. His works often take position within a debate around the implications of corporate or infrastructural media design. Dullaart creates a context for his work in which the fetishizing effect of the co-working space is obstructed. Instead of becoming an ornament of the creative economy, he turns the co-working space into an ornament of his artistic practice. While controlling the context as brand related setting for earlier incentives like DullTech™, DullCloud, DullBrown, DullDawn, DullSocial, and DullDream, dull.life™ will show Dullaart's position developing metonymic narratives, within a context rich distribution stack: from his recently revived DVD guy meme, to using social media armies to recite his poems.
Publication date: 9 Jul '19